Last Summer I created a program at the library called "Kids in the Kitchen", and sticking with the Summer Reading Program's theme, we made "Dirt Cups". A simple no-bake pudding recipe, easy enough (and yummy enough) for any age. The program did so well, another "Kids in the Kitchen" was requested. With Thanksgiving coming up, I thought a pumpkin dessert would be a great idea. Knowing that there is a time restraint for the program; a pie, my first choice, would not be do able. After searching, I found a recipe that only called for 3 ingredients. I thought that would be perfect and I could add a few extra spices to the mix and a vanilla glaze to top off the pumpkin cookies.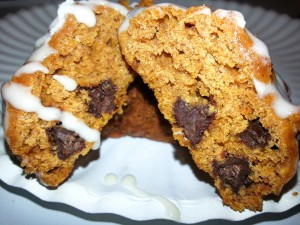 When I made these the first time, I was very skeptical about the outcome, especially since one of the main ingredients is a CAKE mix. So to be on the safe side, I also made a batch using a pumpkin cookie mix instead of the spice cake mix. In the end they came out exactly the same taste and texture wise. The batch made with the cookie mix came out a lot darker. For the program, I am sticking with what the original recipe called for and that is the spice cake mix.
Overall, I am very happy, and surprised at how good these cookies are. The glaze really does add a little something to the cookies, but it is not necessary.
I had a few people try these cookies, just to get a few other opinions on whether or not to go with this recipe or not. Everyone loved them, and they were all shocked when I told them how few ingredients are used. I'll find out tomorrow on whether they are kid approved or not! (Wish me luck!) Check out my next post to find out how it went!!!
I refrigerated these cookies after glazing.
Easiest Pumpkin Cake Cookies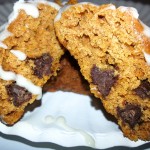 Prep time:
Cook time:
Total time:
Yield:

24

Difficulty:

easy

Recipe type:

dessert
Ingredients:
FOR THE COOKIES

1 box spice cake

1 can (15 oz) pumpkin mix

8 oz semi sweet chocolate chips

OPTIONAL

1/4 tsp vanilla

1/2 tbs cinnamon

FOR THE GLAZE

2 cups sifted powder sugar

3 tablespoons milk (I used 2%)

1 tablespoon melted butter

1 teaspoon vanilla extract
Directions:
FOR THE COOKIES
Pre-heat oven to 350 degrees F. Line baking tray with parchment paper.
In a large bowl, stir together cake mix, pumpkin, cinnamon, and vanilla. Once the mixture is well combined, stir in chocolate chips.
Drop by rounded tablespoons onto baking sheet.
Bake for 10-12 minutes or until cookies are set.
FOR THE GLAZE
In a large bowl add 1 cup of powdered sugar 1 tablespoon of milk and the vanilla extract. Whisk together to lightly incorporate. Add the remaining ingredients and whisk together until thoroughly combined. You made need to add more milk or more sugar depending on your desired consistency.
Once the glaze has cooled, glaze your cookies and enjoy!
Published on by Lauren
Tagged: dessert, pumpkin, vanilla glaze