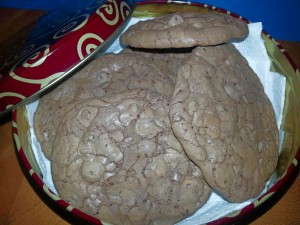 This past weekend was Veterans day, and I was lucky enough to have a long weekend. I had a weekend planned of baking, crafting, cleaning and organizing; but unless you count "pinning" the mentioned above, not much was done. (See picture below). I was enjoying my weekend of laziness but I wanted to bake something. I opted for these super simple double chocolate chip cookies, and all the ingredients were already in my cabinet, bonus! These cookies are very brownie like, even the "dough" is the consistency of brownie batter (don't be alarmed, they are supposed to be that way!). I suggest putting the dough in the fridge before spooning on to the tray. The recipe yields 1 dozen cookies, but they are a decent size, and the recipe can be doubled easily. One thing to remember, do not over crowd the dough on the cookie tray, they spread out.
If you like soft, chewy, chocolatey, not to mention quick and simple cookies, I suggest baking these!
Double Chocolate Chip Cookies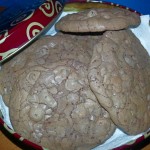 Prep time:
Cook time:
Total time:
Yield:

12

Difficulty:

easy

Recipe type:

Dessert
Ingredients:
8 ounces semisweet chocolate, roughly chopped

4 tablespoons (half stick) unsalted butter

2/3 cup all-purpose flour

1/2 teaspoon baking powder

1/2 teaspoon salt

2 large eggs

3/4 cup packed dark-brown sugar

1 teaspoon pure vanilla extract

6 oz white chocolate chips

6 oz semi-sweet chocolate chips
Directions:
Preheat the oven to 350 degrees.Line baking sheet with parchment paper. Set aside.
Melt butter and the roughly chopped semi-sweet chocolate using the double boiler method. (See picture above). Once melted, set aside to cool.
In a mixing bowl, beat eggs, brown sugar, and vanilla on high speed until light and fluffy. Reduce speed to low; beat in melted chocolate. Mix in flour mixture in 3 additions and until just combined. Stir in chocolate chips.
Refrigerate cookie dough for at least 5 minutes.
Drop heaping tablespoons of dough 2 to 3 inches apart onto baking sheets. Bake, rotating sheets halfway through, until cookies are shiny and crackly yet soft in centers, 12 to 15 minutes. Cool on baking sheets 10 minutes; transfer to a wire rack to cool completely.
Published on by Lauren
Tagged: Cheese, chocolate, Chocolate Chip, decadent, dessert, double chocolate, simple, white chocolate