I have a serious sweet tooth, so Halloween, which was last Thursday is a dangerous holiday for me. As if all the Kit-Kat's I ate Halloween night at work (and extras I brought home) weren't enough, I decided to make chocolate chip rugelachs the next day. I've made this recipe before and absolutely loved them. They never made it online because they were eaten before I had taken any pictures. That is how good they are!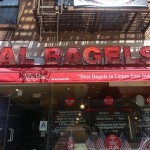 When I was living in New York on the weekend I would go to Tal Bagel. Tal was my favorite bagel place, and I would order the same thing every time. An everything bagel with 3 or 4 (or maybe 5) chocolate rugelachs. I was such a regular, every now and then I would get a few extra thrown into my bag, it was great! Unfortunately, there aren't very many bakeries around here, and the ones that are here are limited in what they sell. So I knew that if I were to ever eat a rugelach down here, I would have to be the one to make them. I was so excited when I found this recipe a few months ago. The only reason I haven't made them more than twice is that rolling and folding each rugelach is time-consuming. I finished a lot quicker this time around and I am sure the more I make them, the faster I'll get. Which is a great excuse to make them again soon.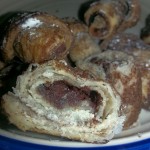 I found the recipe in one of my absolute favorite cookbooks, Great Cookies: Secrets to Sensational Sweets. Not only does this book have amazing cookie and pastry recipes, the author Carol Walter, also gives a lot of tips and techniques throughout the book. I am in the process of writing a post on techniques for cream cheese pastries, I found her advice incredibly helpful. This is an awesome recipe for rugelachs (I highly recommend it) and I am definitely putting these down on my list of favorites! Making (and nailing) these rugelachs has given me confidence in trying a more challenging pastry, I'm thinking eclairs are next! YUM!
Chocolate Chip Rugelach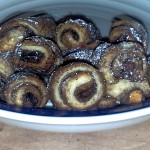 Prep time:
Cook time:
Total time:
Yield:

50

Difficulty:

medium

Recipe type:

Dessert
Ingredients:
CREAM CHEESE PASTRY

1 cup (2 sticks) unsalted butter

8 oz cream cheese (I used a light cream cheese)

2 1/4 cups all-purpose flour, spooned in and leveled, divided

1/4 tsp salt

1/4 cup strained confectioners' sugar, spooned and leveled

FILLING

3/4 cup granulated sugar

2 tbs strained unsweetened cocoa powder

1 tsp ground cinnamon

About 1/4 cup mini-chocolate chips

Strained confectioners' sugar, for dusting
Directions:
MAKE PASTRY
In a large bowl, using a wooden spoon, mix together the butter and cream cheese until smooth and thoroughly blended.
Mix in 1 cup of the flour and the salt, working until almost incorporated. Cut in another 1/2 cup flour with the spoon, again working it until the flour is almost incorporated. Complete the process by kneading in another 1/2 cup flour. DO NOT OVERWORK. (The remaining 1/4 cup of flour will be used for rolling.)
With lightly floured hands, shape dough into a mound, then divide in half and form two 5- inch disks. Dust the disks lightly with a little flour, score with the side of your hand to even the tops, and wrap with plastic. Chill for at least 4 hours or up to 3 days.
SHAPE AND FILL THE RUGELACH- This procedure will be used each time you roll a portion of the dough.
Remove the dough from the refrigerator and let stand at room temperature for 30 minutes before rolling. It is ready to roll when you can leave a slight imprint in the dough when you press it with your fingers. Combine the remaining 1/4 cup flour and the confectioners' sugar. Dust a pastry board or other flat surface with this mixture. Have cookie sheets ready.
Divide 1 disk of the dough into thirds, coat each third lightly with the flour-sugar mixture, and form into cylinders. Working with one cylinder at a time, tap it about six times with a rolling pin to flatten. Then roll the cylinder into a long rectangle approximately 5 inches wide and 18 inches long, and 1/16 inch thick.
In a medium bowl, whisk together the granulated sugar, cocoa powder, and cinnamon. Sprinkle each strip of pastry generously with this mixture.
With a pastry wheel, cut triangles at 2-inch intervals. Place about 1/2 tsp of chocolate chips on the wide end of the triangles. Starting with the widest side, loosely roll the triangles of dough and place them on the baking sheet lined with parchment paper, with the end underneath. Chill for 1/2 hour before baking.
BAKING THE RUGELACH
Position the shelves in the upper and lower thirds of the oven. Heat the oven to 350 degrees F.
Bake the rugelach for 18-22 minutes, or until golden brown. To ensure even browning, toward the end of baking time rotate the sheets top to bottom and front to back. Remove from the oven and let rest for 1 minute, then loosen with a metal spatula.
Transfer to cooling racks. When cool, sprinkle with confectioners' sugar.
Published on by Lauren
Tagged: breakfast, chocolate, Chocolate Chip, dessert, pastry