I really like seafood but I do not make it that often because Lauren doesn't really like the texture of it. When I made the shrimp scampi awhile back (check out the recipe) she tried it and "liked" it, so she agreed to try the deep-fried shrimp. When making shrimp I prefer to take the tails off before cooking, I find them easier to eat that way. I also learned the hard way that when coating the shrimp in flour, it is much easier in a plastic container opposed to a plastic bag. I wish I took pictures of the mess that was made when the bag burst open.
I made the shrimp two different ways; one batch I used both flour and panko breadcrumbs, the second batch was only with flour. In the two pictures you can see the difference in color that both coatings produce. The picture above is after the shrimp is coated with the buffalo sauce; to the right, before they are sauced.
One of the ingredients that is called for in the buffalo sauce is a hot pepper sauce. I used Franks Red Hot "Hot" Buffalo Wing Sauce, and I do not think I would try it with anything else. It went well with the shrimp.
I really like this recipe for Fried Buffalo Shrimp; it is crispy whether you use panko breadcrumbs or not and the sauce is really spicy. I would highly recommend this recipe to anyone, even someone who is timid about eating seafood (like Lauren).
Buffalo Shrimp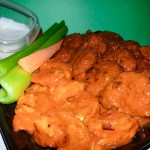 Prep time:
Cook time:
Total time:
Yield:

4

Difficulty:

easy

Recipe type:

Dinner
Ingredients:
1 lb large shrimp, peeled and deveined; tails removed

1 1/2 cups All Purpose Flour

1 1/2 cups panko chipotle bread crumbs (optional)

1 1/2 tbs Creole-style seasoning

1 tbs garlic powder

1 tbs ground cayenne pepper

1 tsp onion powder

1 tsp freshly ground black pepper

2-3 cups oil for frying or enough to fill your deep fryer

BUFFALO SAUCE

4 garlic gloves; minced

2 1/2 tbs butter

6 oz hot pepper sauce (I used Franks Red Hot "Hot" Buffalo Wing Sauce)

1 tsp ground cayanne pepper
Directions:
In a medium sized tupper ware container (a large STURDY plastic bag will work), combine the flour, Creole-style seasoning, garlic powder, ground cayenne pepper, onion powder and ground black pepper. Put the top on the container and shake a few times to combine the ingredients well.
Rinse the shrimp under cold water and place them in the plastic bag with the flour mixture. Seal the bag and shake to coat all of the shrimp well with the flour mixture.
Place the coated shrimp on a cookie sheet and place in the refrigerator for 15 to 20 minutes. Save remaining flour mixture in the bag.
In a mixing bowl, whisk together garlic, butter hot sauce and cayenne pepper and heat until butter is melted;remove from heat.
In a pot, heat the oil to 375 degrees F, or set your deep fryer to 375 degrees F.
Remove shrimp from refrigerator and shake a second time in flour mixture OR shake in chipotle panko bread crumbs.
Place the shrimp in hot oil and fry until pink; about 2 to 3 minutes. Remove and immediately coat with buffalo sauce.
Published on by Duane
Tagged: Appetizer, Buffalo Sauce, Deep Fry, dinner, Shrimp, Side, spicy