This is the second time I have made this cupcake recipe in the past 2 weeks. The first time was with a cheesecake frosting, and this time I made an Oreo buttercream. Saturday was the TAB bake sale at the library, along with these cupcakes I made Reese's Chocolate Chip Cookies and Double Dark Oreo Chocolate Chip Cookies.
This was the first time I tried making this frosting and I couldn't believe how amazing it was! I felt like I was eating cake with cookies and cream ice cream. These cupcakes were delicious, and a huge hit at the bake sale! I absolutely love them, and highly recommend making them!
(Since this was a Halloween/Fall bake sale, I added festive sprinkles to the mixture…. if you were wondering what those white and orange dots were 😉 )
Other items that were at the bake sale were http://www.muffinsandmeat.com/2013/04/17/chocolate-chip-reeses-cookies/ and http://www.muffinsandmeat.com/2013/10/18/double-dark-oreo-chocolate-cookies/
Chocolate Cupcakes w/the Best Cookies and Cream Icicng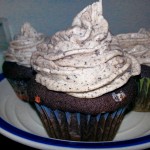 Prep time:
Cook time:
Total time:
Yield:

24

Difficulty:

easy

Recipe type:

Dessert
Ingredients:
CUPCAKES

3/4 cup unsweetened Special Dark Dutch-process cocoa powder

3/4 cup fresh brewed coffee

2 cups all-purpose flour

1 cup cake flour

1 tsp. baking soda

1 tsp. baking powder

1 1/4 tsp. coarse salt

1 1/2 cups (3 sticks) unsalted butter

2 1/4 cups sugar

4 large eggs, at room temperature

4 tsp. vanilla extract

1 cup light sour cream, at room temperature

FROSTING

6-7 cups confectioners sugar

1 cup (2 sticks) unsalted butter; softened

1 tsp vanilla extract

4-6 tsp (depending on desired consistency) heavy whipping cream

8-10 Oreo's finely chopped up
Directions:
CUPCAKES
Preheat oven to 350 and line muffin pans.
In a small bowl, mix cocoa powder and fresh brewed coffee until a thick paste forms. Set aside.
In a medium bowl, strain together flour, baking soda, baking powder, & salt. Set aside.
Melt butter in a medium saucepan. Add sugar and stir until well combined.
Transfer the butter & sugar mixture to a large bowl.
Beat on medium-high for 4-5 minutes or until mixture has cooled.
Add eggs one at a time and mixing well in between.
Add vanilla and cocoa mixture, beat until well incorporated.
With the mixer on low, alternate adding flour mixture and sour cream in two batches. Mix until just combined.
Divide the batter evenly between the cupcake tins.
Bake for 13-15 minutes, or until a toothpick inserted into the center comes out clean.
FROSTING
in a large mixing bowl. Add 4 cups of sugar, followed by 1 tsp of whipping cream and vanilla. On medium speed, beat until smooth and creamy, about 3-5 minutes. Gradually add the remaining sugar, 1 cup at a time, and whipping cream, 1 tsp at a time; beating well after each addition (about 2 minutes), until the incing is thick enough to be of spreading consistency. Fold in chopped Oreos.
Fill piping bag or spread evenly over cupcakes or cake.
If icing hardens, add more whipping cream, 1/2 tsp at a time until desired consistency.
Published on by Lauren
Tagged: buttercream, chocolate, Cookies 'N Cream, cupcakes, decadent, dessert, double chocolate, oreo