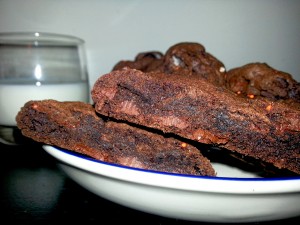 Today has been a crazy day of baking! Tomorrow, or I should say later today, is the Teen Advisory Board's bake sale. The teens are raising money to do a collaborative art piece to hang in the library. This bake sale I decided to make 2 kinds of cookies; the big favorite, Reese's Peanut Butter Cup cookies, Double Dark OREO Chocolate Cookies (I also made a variation with dark chili chocolate), and Chocolate Cupcakes with Oreo Buttercream Frosting. (All three of those recipes can be found on MuffinsandMeat).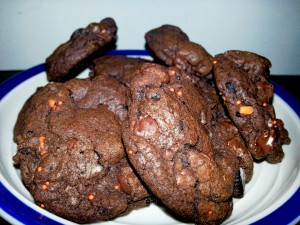 As I was making these Double Dark OREO Chocolate Cookies, I had an idea to make the last 10 with dark chili chocolate and give the cookie a little kick. Now that I know that it tastes awesome, sometime in the near future I am going to experiment with the chili chocolate and create a spicy chili cookie.
I absolutely LOVE this recipe! It is a MUST try!
Keep a look out for a perfected spicy version 😉
Double Dark OREO Chocolate Cookies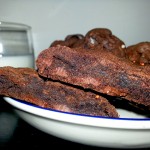 Prep time:
Cook time:
Total time:
Difficulty:

easy

Recipe type:

Dessert
Ingredients:
1 cup butter, cold

3/4 cup brown sugar

3/4 cup sugar

2 eggs

2 tsp vanilla

1 tsp sea salt

1 tsp baking soda

1 Tbsp hot water

2 1/4 cups all purpose flour

1/4 cup Hershey's Special Dark Cocoa Powder

3.75 oz Chocolate Pudding Mix

1 cup Hershey's Special Dark Chocolate Chips

2 cups Oreos, crumbled or rough chopped
Directions:
Preheat oven to 350 degrees F.
Using an electric mixer, beat butter until smooth
Add the brown sugar and sugar. Beat for 1-2 minutes, until nearly creamy.
Add the eggs, one at a time and mixing in between additions.
Dissolve the baking soda in the tablespoon of water. Add both the baking soda and the vanilla to the mixer and mix well. Mix in the salt.
Add the flour, cocoa powder, and pudding mix, and mix until dough forms.
Mix in the chocolate chips and crushed oreos using a wooden spoon or spatula.
Scoop dough by heaping tablespoons onto a parchment lined or silicon lined baking sheet, 2 inches apart.
Bake for 10-12 minutes until edges are set. Let cool on the baking sheet for a few minutes before removing to wire rack to cool completely.
Published on by Lauren
Tagged: chocolate, Chocolate Chip, decadent, dessert, oreo