I love experimenting with food, and there is nothing better to experiment with than a burger. Burgers are
so versatile and that is one reason I enjoy making them so often. This time I made Jalapeno and Bacon Cheeseburgers and they came out really well. If you like jalapeno's, you should check out this recipe.
Jalapeno Bacon Cheeseburger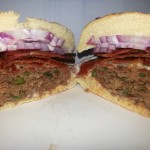 Prep time:
Cook time:
Total time:
Yield:

4

Difficulty:

easy

Recipe type:

Dinner
Ingredients:
1 lb ground beef

2 jalapenos diced with seeds

2 tbs chili garlic paste

1 tbs Worcestershire sauce

3 cloves of garlic; minced

8 slices of bacon

4 slices pepper jack cheese

onion (optional)

Creole Seasoning
Directions:
In a medium bowl combine ground beef, jalapenos, garlic, chili paste, and Worcestershire sauce. Once combined, form 4 patties.
Sprinkle both sides of the patties with desired amount of creole seasoning.
Grill each side for 5 minutes.
Place on bun, and add your favorite toppings.
Enjoy!
Published on by Duane
Tagged: Bacon, Burger, Cheese, dinner, Hot Peppers, Jalapeno, sandwich, spicy