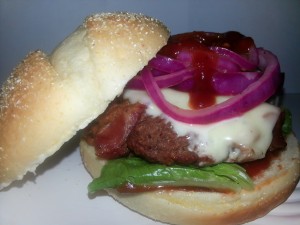 Lauren found Rachel Ray's, The Book of Burger, at work the other day, and while flipping through I came across a recipe for Bacon-Wrapped burgers. The recipe looked awesome and I decided to make them that night.
The only thing I changed in the recipe is, I made my burgers on the grill, while Rachel used a griddle.
I really liked this burger, and Lauren said it is her new favorite. The adobo sauce really adds a great kick to the burger, and the BBQ sauce would be good on any kind of protein. This burger is definitely worth trying out, you will love it!
(Recipe below pictures)
Bacon-Wrapped Chipotle Burgers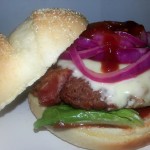 Prep time:
Cook time:
Total time:
Yield:

4

Difficulty:

easy

Recipe type:

Dinner
Ingredients:
BBQ SAUCE

1 cup of good quality ketchup

2 large cloves garlic, finely chopped

2 tbs dark brown sugar

2 tbs dark amber maple syrup

2 tbs Worcestershire sauce

1 1/2 tbs cider vinegar

1 tsp smoked sweet paprika

Coarsely ground pepper

ONIONS

1 small red onion, sliced

1 lime

kosher salt and pepper

BURGERS

1 1/2 lbs ground beef chuck.

2 tbs pureed chipotle in adobo sauce

2 tbs Worcestershire sauce

8 pieces of bacon

4 pieces of cheese

Crisp lettuce

4 Kaiser rolls
Directions:
Preheat the grill using indirect cooking to 350 degrees F or medium heat.
Place bacon on void side of the grill for 10 minutes; 5 minutes on each side to cook the bacon halfway; set aside until cool enough to handle.
While the bacon is cooking, make the sauce: Combine all BBQ sauce ingredients in a small saucepan. Bring to a bubble and reduce the heat to low, simmer 15 to 20 minutes to thicken.
Place the sliced onion in a bowl; separate rings. Squeeze in the lime juice and season with salt and pepper.
In a large bowl, combine the beef, chipotle puree, and Worcestershire; season with salt and pepper and mix thoroughly. Score the meat into 4 equal portions and form them into patties.
Cross 2 slices of bacon on a work surface, place a patty on top of the x and wrap the bacon up and around the burger. Repeat to wrap all 4 patties. Cook the burgers on preheated grill with the bacon seam side down first until the bacon is crisp. Flip and cook until the bacon on the second side is crisp 10 to 12 minutes total for medium burgers. Top the burgers with cheese for the last minute of cooking.
Place a little lettuce on the roll bottoms and top with the burgers, BBQ sauce, and onions. Set the roll tops in place.
Published on by Duane