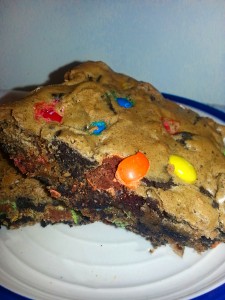 Fall has arrived which means it's time for boots, long sleeve shirts, post season baseball (next year Yankees…next year), Halloween and scary movies! Back in high school around this time of year, my best friend Sonya and I would stay up late baking, eating take out and watching scary movies. Last weekend we decided we were going to recreate those high school memories; just to later realize we are old (okay older) and can't stay up that late anymore. That's okay though, we had lots and lots of laughs and delicious cookie bars!
I found the recipe for these cookie bars on AverieCooks.com, but a change I made was I used dark brown sugar instead of light brown. I like the rich molasses flavor that dark brown sugar gives. If you prefer a more subtle flavor use light brown sugar.
We're going to attempt another horror movie night sometime before Halloween, and hopefully make it later into the night (and movie). We may not have finished the movie this time, but we did finish off a plate of these M&M Oreo Cookie Bars!
Another thing we learned this past weekend, when everything you make at home is 10X better than any food out, trying to find a place to order from is next to impossible!
M&M OREO Cookie Bars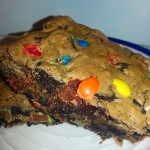 Prep time:
Cook time:
Total time:
Yield:

9

Difficulty:

easy

Recipe type:

Dessert
Ingredients:
1/2 cup unsalted butter (1 stick), melted

1 large egg

1 cup dark brown sugar, packed (or light brown sugar if you prefer a lighter flavor)

1 tablespoon vanilla extract

1 cup all-purpose flour

18 Oreo Cookies, coarsely chopped

about 1 cup M&M's
Directions:
Preheat oven to 350F.Dab a little butter on the corners of an 8-by-8-inch baking pan and line with parchment paper; set aside.
In a large, microwave-safe bowl melt the butter, about 1 minute on high power.
Let sit for a few minutes before adding the egg. Add the egg, brown sugar, vanilla, and whisk until smooth.
Add the flour and stir until just combined, don't over mix.
Stir in the Oreos.
Turn half of the batter out into prepared pan, smoothing the top lightly with a spatula. Sprinkle M&M's. Add remaining batter. Evenly sprinkle more M&Ms over top, slightly pushing them down.
Bake for about 23 to 25 minutes, top should be set and edges slightly firm. A toothpick inserted in the center (if you can find a bare patch to test) should come out clean, or with a few moist crumbs, but no batter. Allow bars to cool in pan for at least 30 minutes before slicing and serving.
Published on by Lauren
Tagged: Cookies 'N Cream, decadent, dessert, M&M's, oreo