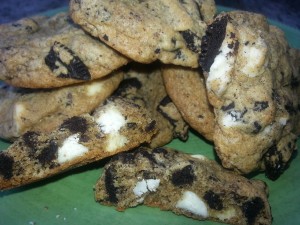 For this week's Sunday Funday treat I made Cookies and Cream Chocolate Chip Cookies. I found this recipe on Pinterest (from chewoutloud.com) and I am so glad I decided to make them this weekend. Everyone who tried them absolutely loved them.
These cookies were super quick and easy to make, and they were eaten just as quickly. The Oreo's really stand out and they are so chocolatey! You can not eat just 1 or 2… or 3.
I am having no luck in football this weekend (Duane is doing very well this week), as Peyton Manning proved to be the better brother and every other pick I made was a flop. At least I can say the opposite for these seriously yummy cookies!
Cookies and Cream Chocolate Chip Cookies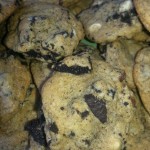 Prep time:
Cook time:
Total time:
Yield:

20

Difficulty:

easy

Recipe type:

Dessert
Ingredients:
1/2 cup salted butter, softened

3/4 cup brown sugar

1 large egg

1 tbs pure vanilla extract

1 1/4 cup all purpose flour

1/2 tsp baking soda

1/2 tsp table salt

12 Oreo cookies, roughly broken up (or any brand chocolate sandwich cookies)

1/2 cup real white chocolate chips

1/2 cup semi-sweet chocolate chips
Directions:
Preheat oven to 350F position rack on the upper third level. Line large baking sheet with parchment paper.
Using paddle attachment of stand or hand mixer, mix butter and sugar until fluffy and fully combined. Add egg and vanilla, and mix until incorporated.
In a separate large bowl, combine flour, baking soda, and salt. Whisk to combine.
Gently fold butter mixture and flour mixture together, using rubber spatula. When dough is fully combined, gently fold in broken cookie pieces and white/chocolate chips. Chill for 10 minutes or until dough can be easily shaped.
Using a tablespoon, scoop out mounds of dough and place onto parchment-lined baking sheet. Slightly flatten with spoon (the cookies do not spread much).
Bake 9 minutes or until edges look done. Centers will still seem underdone, but they set up nicely upon cooling. Let cool on baking sheet for a few minutes, and then transfer on wire rack to complete cooling.
Store in airtight container.
Published on by Lauren
Tagged: Chocolate Chip, Cookies 'N Cream, decadent, dessert, oreo, simple, white chocolate