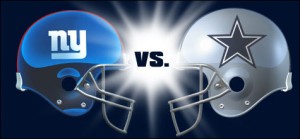 FINALLY! The 2013/2014 football season started last week, and I am so excited! To celebrate this joyous occasion, I made football cake pops; not just regular football cake pops but NY Giants cake pops. Unfortunately it didn't bring any luck to my football team, they lost to Dallas 36-31. While it was a sad day in the football world (at least is was for us and our friends) the dessert tasted great!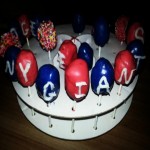 I had to work the day before the games, so I didn't have time to make a cake from scratch. Instead I doctored up a devil's food cake mix. If I didn't just tell you that I used box cake mix, you would of never known; they were delicious! The vanilla frosting with the chocolate cake is a great combo and I definitely prefer homemade frosting instead of can (have you ever looked at the ingredients on the back of a can of frosting?). These cake pops will make another return this football season!
I only wish the Giants were as good as the cake pops were last week.
Chocolate Cake Pops with Buttercream Frosting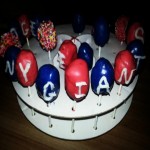 Prep time:
Cook time:
Total time:
Yield:

35

Difficulty:

easy

Recipe type:

Dessert
Ingredients:
CAKE

1 box cake devils food cake mix

1 small box instant chocolate pudding

3/4 cup oil

3/4 cup milk

4 eggs

FROSTING

1 stick (1/2 cup) butter

1 1/2 cups powder sugar

1 tsp milk

1 tsp vanilla

COATING

1 bag vanilla candied chips

about 1 tbs vegetable shortening (varies on desired thickness)
Directions:
CAKE
Preheat oven 350 degrees, or time stated on cake mix box; grease 13×9 pan (or size of your choice), set aside.
In a large bowl, add all of the cake ingredients in order as they are listed above. Mix on medium speed until all ingredients are well combined.
Pour batter into greased pan. Bake as directed on box.
Once cake is removed from oven, let cool completely before starting the next step. To help cool, cut the cake into little pieces while it is still warm.
PREPARING THE FROSTING
In a standing mixer or hand mixer fitted with whisk attachment, mix together sugar and butter. Mix on low speed until well blended and then increase speed to medium and beat for another 3 minutes.
Add vanilla and milk and continue to beat on medium speed for 1 minute more, adding more milk if needed for spreading consistency.
When the cake has cooled crumble into little pieces, fold in small amounts of frosting until the mixture is sticky enough to form balls.
Once mixture is combined, start forming balls in an egg shape/football.
Once they are all finished, place in an air tight container, and refrigerate for at least 3 hours. We left them in overnight.
Melt the chocolate using the double boiler method, placing a heat safe bowl in a small sauce pan with just enough water to boil. Once the water is at a boil, lower the heat. Continuously stirring. Add vegetable shortening to thin. Adding just A LITTLE at a time.
Once the chocolate has melted, transfer about a 1/4 cup of chocolate to a heat safe cup. I used a coffee mug. Keep the sauce pan with the remaining chocolate on low-stir frequently through out the whole process.
Take about 5 cake balls out of the refrigerator at a time. You do not want them to start thawing out and become a different consistency throughout.
One at a time, take a lollipop stick and dip it into the cup of chocolate. Stick into the bottom of the cake ball. Hold it up for a few seconds allowing the chocolate to harden.
Tilt your chocolate mug, and dip the cake ball in, swirling it around, coating the entire cake pop. When you remove the cake pop, drip the excess off. Lightly shake and tap the stick on the edge of the mug. Transfer to your stand or cake pop holder.
Once you are finished with the first set, take out another 5, before pouring more chocolate into the cup, check to make sure the consistency of your chocolate is thin enough. More shortening can be added if needed.
Pour more chocolate into your cup and repeat steps until you are out of cake balls.
Let all of your cake pops harden before decorating.
Published on by Lauren
Tagged: buttercream, cake pops, chocolate, dessert, party food