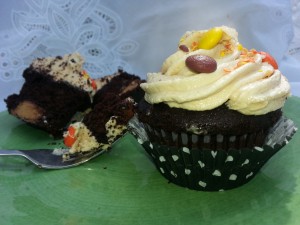 This past weekend was Labor Day, and we celebrated by cooking some amazing food! Duane made a pork shoulder (DELICIOUS) and I made these REESE'S Cupcakes. The frosting is a peanut butter buttercream topped with whole and chopped REESE'S pieces and the middle of the cupcake has a mini REESE'S cup inside.
This recipe makes 30 regular size cupcakes so I unselfishly shared a lot; and everyone loved, loved, LOVED these cupcakes! This chocolate peanut butter treat is absolutely delicious, and I think it is my new favorite chocolate cake/cupcake recipe.
Something to remember: when inserting the REESE'S, don't press it all the way down. I accidentally did on a few of them and the chocolate stuck to the bottom of the wrapper.
I hope you love this cupcake just as much as we did!
REESE'S Cupcakes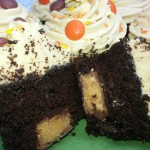 Prep time:
Cook time:
Total time:
Yield:

30

Difficulty:

easy

Recipe type:

Dessert
Ingredients:
CUPCAKES

1 1/2 granulated sugar

1 1/2 cups all purpose flour

1 cup unsweetened cocoa powder

1 large box chocolate pudding

1 tsp kosher salt

2 sticks unsalted butter

4 eggs

1 cup light sour cream

2 tsp vanilla extract

1 tbs instant espresso dissolved in 3/4 cup warm water

1 bag REESE'S minis; frozen

PEANUT BUTTER FROSTING

3 sticks unsalted butter, softened

1 cup creamy peanut butter

2 tbs vanilla extract

5 to 5 1/2 cups confectioners sugar, sifted

6-8 tbs heavy whipping cream (you can substitute milk)

1 bag of REESE'S Pieces
Directions:
Preheat oven to 350 degrees; line muffin pan and set aside.
Dissolve 1 tbs instant espresso powder in 3/4 cup warm water. Set aside.
Whisk together baking soda, baking powder, cocoa, flour, salt, and pudding mix. Set aside.
Beat butter and sugar until creamy. Add eggs 1 at a time, beating after each addition. Add vanilla, sour cream, and espresso mixture; beat until combined.
Add flour mixture a little at a time, beating after each addition until well combined.
Spoon cake batter into the liners, fill each 3/4 of the way full. Place a frozen REESE'S mini into the center of each cupcake. Do not press REESE'S all the way to the bottom.
Bake on the top rack for 17-19 minutes, or until the toothpick/cake tester comes out clean/with a few crumbs.
Let the cupcakes cool in the muffin pan for about 10 minutes. Remove from muffin pan and place on a wire rack to cool completely.
PEANUT BUTTER BUTTERCREAM FROSTING
In a large bowl, cream butter and peanut butter on medium speed until fluffy. Turn your mixer down to low speed and slowly add in the confectioners sugar, and continue mixing until well blended.
Add vanilla and 4 tbs of heavy cream or milk. Blend on low speed until moistened. Add an additional 1 to 4 tbs of heavy cream until you reach the desired consistency. Beat at high speed until frosting is smooth and fluffy.
Pipe frosting onto cooled cupcakes and finish with REESE'S Pieces.
Published on by Lauren
Tagged: Buttercream Frosting, chocolate, cupcakes, decadent, dessert, Peanut butter, Reece's Peanut Butter Cup, Reese's Pieces