I've been on an Asian kick recently and it all started with this recipe. When Lauren and I went to New York over the summer we went to Wa Jael; a restaurant that had some of the best Chinese noodles and General Tso's chicken that we've ever tried. Since then, we've been looking for a good noodle recipe to try.
I saw a picture for these noodles on Pinterest (Lauren told me I would be hooked on Pinterest) and the recipe came from www.epicurious.com. I made a few changes from the original, Epicurious.com has tomato paste as an ingredient and I changed it to chili paste. I also added a tbs of sriracha and instead of crunchy peanut butter we used creamy.
I hope you like these as much as we did!
Spicy Chinese Peanut Noodles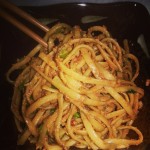 Prep time:
Cook time:
Total time:
Yield:

6

Difficulty:

easy

Recipe type:

Side
Ingredients:
1 teaspoon sesame oil

1 garlic clove, finely chopped

2 teaspoons finely chopped ginger

1/4 cup peanut butter

2 tablespoons low-sodium soy sauce

1 tablespoon hoisin sauce

1 tablespoon brown sugar

1 tablespoon rice vinegar

1 tablespoon sriracha

1/2 teaspoon Asian chile paste (or to taste)

6 ounces linguine

1/3 cup sliced scallions

1/2 tbs sesame seed oil (for boiling linguini)
Directions:
In large pot mix water and sesame seed oil. Cook linguini (according to package directions). Set aside.
In a small saucepan, heat oil over medium heat. Add garlic and ginger; cook, stirring, until just soft, 1 minute.
Add 3 tablespoons water, peanut butter, soy sauce, hoisin, sugar, vinegar, sriracha and chile paste; cook, stirring often, until sauce is thick, about 4 minutes.
Toss in noodles and scallions; serve at room temperature.
Published on by Duane