I saw a recipe on Pinterest for Coconut Crunch Chicken from the website thecozyapron.com. It looked so good I decided to make it last week. I added a few things to the recipe to give the chicken a little more kick, and the coconut compliments the curry very nicely! Use your favorite dipping sauce, we both agree that a hot sauce and the coconut are a nice combination. I used a ghost chili bbq sauce and Lauren used a Caribbean jerk.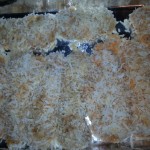 I highly recommend trying this recipe!
Coconut Curry Chicken Strips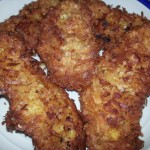 Prep time:
Cook time:
Total time:
Yield:

2-4

Difficulty:

easy

Recipe type:

Dinner
Ingredients:
Canola (or preferred oil) for frying

2-3 chicken breasts (skinless and boneless), butterflied and cut through,then cut into one inch wide strips

curry powder

Salt

Pepper

cayenne pepper

1 cup flour

2-3 eggs (depending on the amount of chicken used)

1 1/2 tbl sirachi sauce

3-4 cups sweetened, shredded coconut (depending on amount of chicken)
Directions:
Place the chicken strips in a row on a baking sheet lined with aluminum foil. Sprinkle curry powder, cayanne pepper, black pepper, and a pinch or 2 of salt, until the strips are coated and seasoned to your liking. Flip and do it to the other side.
Set up your "coating" station by putting the flour, along with another couple of pinches of salt, pepper and cayenne pepper, into a medium-sized bowl; combine well; in a separate bowl, beat eggs and sirachi.
Put the sweetened shredded coconut into another medium-sized bowl.
To coat the chicken strips, dip in egg, then dredge into seasoned flour, coating well. Coat all of the strips in flour before starting the next step. This allows the flour to set in to the chicken.
Dip back into the egg mixture and then firmly press the strips into the coconut, coating the strip thoroughly. Place the strips on to a plate until all strips have been coated.
Fill a stainless steel or cast iron skillet with a 1/4 inch of oil, and bring the temperature to medium heat, 350 degrees.
To fry the strips, work in batches by adding about 4-5 strips into the hot oil, and allow them to fry for about 2-3 minutes each side or until thoroughly cooked, moving them very gently with tongs every now and then, until they are a deep, golden color; remove from oil and place onto a paper towel-lined platter to drain. Repeat process until all the chicken has been fried. You may need to remove pieces of coconut that has fallen into the oil.
Enjoy!
Published on by Duane
Tagged: Asian, coconut, crispy, Curry, fried chicken