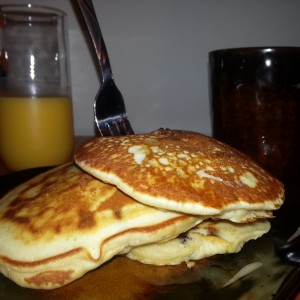 Last Sunday for breakfast I made chocolate chip pancakes, and this time I was not lazy, I made them from scratch. I had seen a recipe for old fashioned pancakes on allrecipes.com, but I changed it a little by adding vanilla extract, chocolate chips, and the amount of milk. These pancakes are light, fluffy and just delicious! I added chocolate chips but they are good any way you serve them.
Old Fashioned Pancakes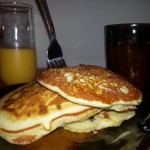 Prep time:
Cook time:
Total time:
Yield:

4

Difficulty:

easy

Recipe type:

Breakfast
Ingredients:
3/4 cup all-purpose flour

1-3/4 teaspoons baking powder

1/2 teaspoon salt

1-1/2 teaspoons white sugar

1/2 cup and 2 tablespoons milk

1/2 egg

1 tablespoon and 1-1/2 teaspoons butter, melted

1/4 teaspoon vanilla extract

1/2 cup chocolate morsels or blueberries (optional)
Directions:
In a large bowl, sift together the flour, baking powder, salt and sugar.
Make a well in the center and add the milk, egg, vanilla, and melted butter; mix until smooth. Stir in chocolate chips or blueberries.
Heat a lightly oiled griddle or frying pan over medium high heat. Pour or scoop the batter onto the griddle, using approximately 1/4 cup for each pancake. Brown on both sides and serve hot.
Published on by Lauren
Tagged: breakfast, Chocolate Chip, simple