My nephew's birthday was this past Saturday, and I had the honor of making the cake! The theme to his 3rd birthday was "Sports, come dressed in your favorite sports team". I was so excited when the Monday before the party she suggested I make the sports cake pops I had recently re-pinned on Pinterest (you can check out all of my pins by scrolling down and clicking on "Lauren's Pins"). Since I had never made cake pops before I wanted to practice first and I only had a few days to get it right. The Tuesday before the party I went to AC Moore to pick up some supplies. What fun I had!
When I got home I started on my practice batch, and I must say, they came out pretty good for being my first time. I read a few blogs on different ways to make Funetti (my sister's choice) cake pops. Every recipe called for the same ingredients, but they all had different times on how long to refrigerate. For my practice balls, I put some in the freezer for 30 minutes, while the rest I put in the fridge for a few hours. In my opinion, the refrigerator is better and I would leave them in at least 3 hours.
When I was reading the other posts it seemed that the number one frustration in making cake pops is keeping the cake ball on the stick when coating them. I did NOT find this a challenge. What helped me was keeping the balls in the refrigerator over night and letting the chocolate harden after sticking the cake ball on the dipped lollipop stick.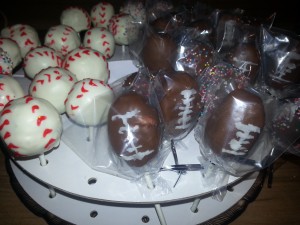 On Friday (the night before his party) I made the cake balls, refrigerating them over night, and the day of, I finished them up. As I started decorating I realized the gel I was using was going to smear the minute I tried to put a bag on it. We decided it would be better to leave the baseballs unwrapped. Sounded like a good idea until we got to the door and it started to rain. It was quite funny in hindsight. Luckily the cake pops and cake made it to the birthday party unharmed. These cupcakes were SO good! They were a huge hit not only with the kids but the adults too. I had so much fun making these and I can't wait to make them again for the first week of football!
Funfetti Cake Sports Pops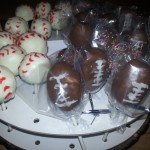 Prep time:
Cook time:
Total time:
Yield:

34

Difficulty:

medium

Recipe type:

Dessert
Ingredients:
1 box Funfetti cake mix + ingredients to make cake (listed on the back of the box)

1 can of Funfetti frosting (you will only use a little over 1/2 of it)

1 bag of vanilla candy chips and 1 bag of milk chocolate candy chips

about 1 tbs vegetable shortening (varies depending on desired thickness)
Directions:
Make cake as directed on box.
Once cake has completely cooled, crumble into fine crumbs.
Adding small amounts at a time, fold in frosting. Continue adding until mixture is sticky enough to form balls. You will use a little over half of the can. Make sure you do not put too much!
Once mixture is combined, start making the balls. For the baseballs, roll balls into 1.25-1.5 inch in diameter. For the footballs, do the same thing, but roll into an egg and shape.
Once they are all finished, place in an air tight container, and refrigerate for at least 3 hours. We left them in overnight.
Melt the chocolate using the double boiler method, placing a heat safe bowl in a small sauce pan with just enough water to boil. Once the water is at a boil, lower the heat. Continuously stirring. Add vegetable shortening to thin. Adding just A LITTLE at a time. You will use about 1 tbs.
Once the chocolate has melted, transfer about a 1/4 cup of chocolate to a heat safe cup. I used a coffee mug. Keep the sauce pan with the remaining chocolate on low-stir frequently through out the whole process.
Take about 5 cake balls out of the refrigerator at a time. You do not want them to start thawing out and become a different consistency throughout.
One at a time, take a lollipop stick and dip it into the cup of chocolate. Stick into the bottom of the cake ball. Hold it up for a few seconds allowing the chocolate to harden.
Tilt your chocolate mug, and dip the cake ball in, swirling it around, coating the entire cake pop. When you remove the cake pop, drip the excess off. Lightly shake and tap the stick on the edge of the mug. Transfer to your stand or cake pop holder.
Once you are finished with the first set, take out another 5, before pouring more chocolate into the cup, check to make sure the consistency of your chocolate is thin enough. More shortening can be added if needed.
Pour more chocolate into your cup and repeat steps until you are out of cake balls.
Let all of your cake pops harden before decorating.
Published on by Lauren
Tagged: birthday, cake pops, decadent, dessert, football, frosting, funfetti, party food, white chocolate