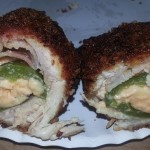 Lauren finally talked me into opening a Pinterest account, and what I feared came true; I am hooked. It is better than any cookbook, and you can find anything and everything. The other day while I was waiting for Lauren to get off of work I started browsing for different recipes for dinner, and then I came across a recipe for bacon wrapped jalapeno popper chicken. Okay, I was sold when I read bacon wrapped.
I loved how this recipe turned out, there are a few things I want to do differently next time. First, I want to add some spice; even though there are jalapenos, it is still very mild. Instead of taking the seeds out, I am going to leave most of them in, and add some chilli spices to the cream cheese mixture.
Another thing is that when cooking the bacon this way, wrapped in the chicken, it steams the bacon opposed to frying it. Steaming it isn't bad, but next time I think I am going to fry it slightly before wrapping it.
This was very good, and it is being put in the "making again very soon" folder!
Bacon Wrapped Jalepeno Popper Chicken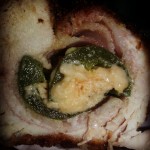 Prep time:
Cook time:
Total time:
Yield:

4-6

Difficulty:

medium

Recipe type:

Dinner
Ingredients:
3 chicken breasts, butterflied and cut in half

6 jalapeño peppers whole, hulled and sliced in half lengthwise

4 ounces cheddar cheese

4 ounces cream cheese

6-12 pieces of bacon

2 egg, whisked

Chipolte Panko bread crumbs

peanut oil for frying
Directions:
Wash, clean, and butterfly chicken and cut in half. Pound out the butterflied filets until they are evenly flat.
In a large bowl, mix together the 2 cheeses.
Hull and wash jalapenos. Cut them in half length-wise, and carefully spoon in the cheese mixture, sandwiching the two halves shut; set aside on a plate until every pepper is filled.
Flatten each chicken piece onto a cutting board, laying 1-2 pieces of bacon onto the chicken, then the cheese-stuffed jalapeño pepper, width-wise, and wrap until shut securing them with toothpicks.
Once each piece of chicken is stuffed, cover each stuffed chicken breast in the whisked egg, then bread it in the Panko bread crumbs, and set aside on a plate.
Pour your oil into your large skillet, set it to medium-high and wait until a water droplet sizzles when sprinkled to know it's ready for frying.
Place 3 chicken breasts in at a time in your large skillet, adjusting heat if necessary
Turn after about 7-10 minutes,or when the chicken breast is browned nicely on one side.
Continue frying until the chicken breast is browned evenly on all sides,and cooked through, turning back and forth, if necessary.
Lift to a towel- or napkin-lined plate to drip and cool off.
Serve warm.
Published on by Duane
Tagged: Bacon, Cheese, dinner, fried chicken, Hot Peppers, Jalapeno, spicy