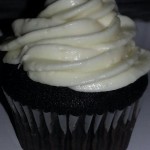 Last weekend I decided to make chocolate cupcakes with a cream cheese frosting. These cupcakes have a mocha flavor with a dense texture. What I really had fun doing was icing these cupcakes. I bought a new pastry bag, the one I had before was a reusable bag that was not only a pain to clean (Duane asked me how would I know about cleaning the bag…. thank you sweetie!), but the tips would come off with slightest bit of pressure. My suggestion; use disposable bags.
With the texture of the cake and the weight of the cream cheese, I thought these cupcakes would be better as a cake. I found it much easier to eat with a fork. The frosting has a strong cream cheese taste, so if you really like cream cheese, you'll love this frosting.
Chocolate Cupcakes with Cream Cheese Frosting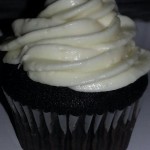 Prep time:
Cook time:
Total time:
Yield:

16

Difficulty:

easy

Recipe type:

Dessert
Ingredients:
CUPCAKES

1/2 cup unsweetened Dutch-process cocoa powder

1 cup + 2 tablespoons cake flour

3/4 tsp baking powder

1/2 tsp baking soda

Pinch of salt

teaspoon instant espresso powder (I used Cafe Bustelo)

1/4 cup + 2 tablespoons freshly brewed espresso (Cafe Bustelo)

1/2 cup (1 stick) unsalted butter, room temperature

1/2 cup granulated sugar

1/4 cup dark brown sugar

2 large eggs, room temperature

1 tsp vanilla extract

1/2 cup low-fat buttermilk

2 1/2 oz bittersweet chocolate, 60% Cacao (I used Ghiradelli), melted and slightly cooled

CREAM CHEESE FROSTING

2 8oz packages of low fat cream cheese.

1/2 cup (1 stick)

2 1/2 cups confectioner sugar (or to taste)

1 1/4 tsp vanilla extract
Directions:
Line standard muffin tray with liners. Pre-heat oven 350 degrees. Brew espresso. (1/4 cup)
While the espresso is brewing; in a large bowl sift cocoa 3 times. Add flour, baking powder, baking soda and salt; whisk to well combine. Set aside.
Dissolve the teaspoon of espresso powder into the brewed espresso, set-aside.
Using the double boiler method (a heat safe bowl sitting on top of a sauce pan with just enough water to fill to cover the bottom, see picture above) melt chocolate. Slightly cool.
Beat butter on medium-high speed until creamy. Add the sugar, dark brown sugar and eggs; beat on medium-high speed, scraping down sides and bottom of bowl as needed, until fluffy.
Reduce mixer speed to low. Add flour mixture in three additions,alternating the low fat buttermilk. You will start and end with flour. Beat after each addition until combined.
Add espresso mixture, melted chocolate and vanilla; beat on low speed until smooth.
Divide batter evenly between lined muffin cups, filling each three-quarters full.
Bake for 16-17 minutes or until cake tester comes out with only a few moist crumbs.
Transfer tin to wire rack; allow cupcakes to cool completely in tin before removing.
Cupcakes can be stored, un-frosted, at room temperature for up to 3 days or in the freezer for up to two months.
FROSTING
In a bowl, cream together the cream cheese and butter until creamy.
Mix in the vanilla, then gradually mix in the confectioners' sugar, then beat on medium speed until creamy.
Using a spatula, fill pastry bag fitted with the star tip and pipe on to cupcakes.
Published on by Lauren
Tagged: chocolate, cream cheese frosting, cupcakes, decadent, dessert