Not long ago I made an outside in bbqchicken; I stuffed the inside of the chicken with barbeque sauce and put a rotisserie rub on the outside. The chicken was amazing. I have been thinking of all different things to stuff it with, this time I chose jalapenos and cheese, it was great! There are so many different combinations that can be stuffed in the chicken- so have fun, be creative, and if you have a stuffed chicken recipe that you love, leave a comment and tell us about it.
Jalapeno and Cheese Outside in Chicken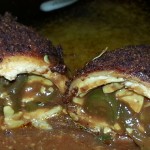 Prep time:
Cook time:
Total time:
Yield:

2

Difficulty:

easy

Recipe type:

Dinner
Ingredients:
2 large boneless skinless chicken breast (however many you need)

Jack Daniel's honey smokehouse BBQ sauce (or your favorite BBQ sauce)

McCormick Rotisserie Chicken Seasoning

Jalapenos (1 large)

Hot habanero block cheese

1 tbl spoon olive oil
Directions:
Preheat oven 385 degrees. Using butter or a non-stick spray, very lightly grease baking dish. We use Pyrex.
Rinse chicken.
By inserting the knife in the thick end of the cutlet, make a pocket as deep as you can without cutting the chicken open. (see photos above)
With the opening side up, pour in the barbeque sauce 1/4 of the way full. Stuff with jalapeno's and cheese. Toothpick it closed. (see photo above)
Brush both sides with olive oil, then sprinkle the rotisserie chicken seasoning.
Bake in the oven for 25 minutes or until chicken is cooked through.
Published on by Duane
Tagged: Baked, BBQ, Cheese, dinner, Hot Peppers, Jalapeno, spicy