My love for cupcakes continues, and this weekend I made Chocolate OREO cupcakes with a peanut butter-buttercream frosting. Most recipes call for all-purpose flour, but I decided to use cake flour instead of all-purpose. I have read a lot of different opinions on which is better to use when baking a cake, so I decided to test it myself. When I tried them I couldn't really tell a difference, especially since I refrigerate; so my finding were inconclusive. I'll try it again another time.
I really liked these cupcakes, and the frosting is delicious!
Chocolate OREO and Peanut Butter Cupcakes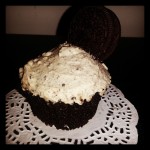 Prep time:
Cook time:
Total time:
Yield:

24

Difficulty:

easy

Recipe type:

Dessert
Ingredients:
CHOCOLATE OREO CUPCAKE

1 cup unsalted butter

1 1/2 cups brewed coffee

1 Tbsp espresso powder

1 Tbsp vanilla

3/4 cup cocoa powder (I used HERSHEY's Special Dark cocoa)

2/3 cup sour cream

2 eggs

2 cups sugar

2 cups cake flour

1 1/2 tsp baking soda

1/2 tsp salt

20 Reduced-fat OREO cookies, finely crushed

PEANUT BUTTER, BUTTERCREAM FROSTING

1 1/2 cups unsalted butter, room temperature

1 1/2 cups peanut butter

4 1/2 cups powdered sugar

3/4 cup heavy cream

1/8 tsp salt

10 Reduced-Fat OREO sandwich cookies, finely crushed
Directions:
CHOCOLATE OREO CUPCAKE:
Preheat oven to 350 F degrees. Line cupcake pans with mini cupcake liners.
In a medium sauce pan, melt the butter. Add the coffee, espresso
powder, cocoa powder, and vanilla and whisk until combined. Set aside to
cool slightly.
In a large bowl, sift together 3 times the sugar, cake flour, baking soda and salt. Set aside.
In a medium bowl, whisk together the sour cream and the eggs.
SLOWLY add a few tablespoons of the chocolate mixture to the sour cream mixture. Whisk to combine. In a slow stream, whisk in the remaining chocolate mixture until combined completely.
Make a well in the center of the flour mixture and pour in sour cream mixture.(picture above).
Using a whisk, stir until no more lumps remain.
Fold in the crushed OREO sandwich cookies.
Scoop batter into baking cups 2/3 full. Bake 17-19 minutes.
Allow to cool in pans before removing to a wire rack to cool completely before frosting.
PEANUT BUTTER BUTTERCREAM FROSTING:
In the bowl using a hand mixer, cream together the peanut butter and butter for 2 minutes. Scrape the sides of the bowl several times.
Add the powdered sugar and mix on medium until combined.
Add the salt and heavy cream, mix until smooth. Beat on high for 1-2 minutes or until fluffy and the color has lightened.
Fold in the crushed OREO sandwich cookies.
Published on by Lauren
Tagged: buttercream, chocolate, cupcakes, decadent, dessert, minature, oreo, Peanut butter