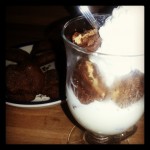 It has been awhile since I have made cookies so this past weekend I decided it was time to make some dough. Duane loves peanut butter and I wanted to make something I thought he would really like. I went with these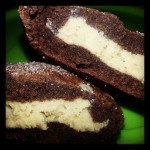 chocolate peanut butter centered cookies. When I ate the first cookie, I thought a glass of milk would go great with them. Instead of the milk, I grabbed some Fat Free Breyers Creamy Vanilla ice cream, a bowl and a spoon. I am so glad I did, this was such an amazing dessert. This recipe will be going into the "will make again soon" folder.
Chocolate Peanut Butter Delight Sundae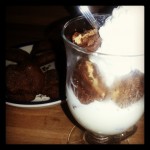 Prep time:
Cook time:
Total time:
Yield:

24

Difficulty:

easy

Recipe type:

Dessert
Ingredients:
FILLING:

3/4 cup confectioners' sugar

3/4 cup peanut butter

COOKIE

1/2 cup sugar

1/2 cup packed dark brown sugar

1/2 cup (1 stick) butter or margarine, softened

1 tsp vanilla

1 egg

1 1/2 cups flour

1/2 cup cocoa powder

1/2 tsp baking soda

1/2 cup semi-sweet chocolate chips

butter and sugar for tops of cookie
Directions:
Preheat oven to 375 and line baking tray with parchment paper.
TO MAKE FILLING: mix together the peanut butter and conectioner's sugar. Roll into 24 balls. Once you have made all 24, place in the freezer while you make the dough.
MAKING THE DOUGH: Beat the butter and the sugars together, until blended.
Add in the vanilla and egg and beat until fully combined.
Gradually add in the flour, cocoa powder, and baking soda until blended. Add chocolate chips
Remove the peanut butter balls (which should be very firm) Form the cookie dough around the peanut butter ball, covering completely.
Rub a little butter to the bottom of a drinking glass. Dip into sugar, coating the bottom of the glass. Gently flatten the cookies; just a little bit.
Bake at 375 degrees for 7 minutes or until the tops begin to crack.
Published on by MuffinsandMeat
Tagged: breakfast, chocolate, decadent, dessert, double chocolate, Peanut butter