Last week Duane, my mom and I went to New York for the holiday weekend. Oh my goodness we had so much fun, we didn't want to come back (there will be a post in the near future all about our food fun)! I made these cupcakes to bring up to New York with me, and I am a little late on posting the recipe.
Ever since I made the Mini Hostess Cupcakes, I realized I really like making cupcakes, especially mini-cupcakes! (There's more to give people) I've been looking for a really good vanilla cake recipe, and I found one that looked absolutely looked delicious . I changed a few things from the original recipe, one of the things being, I used 2% milk instead of cream. There are few other things I did differently and I already have more ideas. I love these dense and decadent cupcakes and I can't wait to make them again!
Homemade Cookies N Cream cupcakes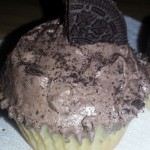 Prep time:
Cook time:
Total time:
Yield:

24

Difficulty:

easy

Recipe type:

Dessert
Ingredients:
CUPCAKES

1 cup unsalted butter, softened

2 cups granulated white sugar

4 eggs

2 tbsp vanilla extract

3 cups all-purpose flour

1 tsp baking powder

½ tsp salt

1⅓ cups 2% milk

COOKIES 'N CREAM FROSTING

½ cup unsalted butter, softened

3 cups confectioners' sugar

1 cup ground low-fat Oreo cookies + extra cookies for decorating

3 tbsp 2% milk

½ tsp vanilla extract
Directions:
CUPCAKES
Preheat oven to 350 degrees F.
Spoon in and level flour, salt, and baking powder. Whisk or strain and set aside.
Cream butter and sugar together with a hand mixer.
Mix eggs, adding one at a time, until blended.
Add vanilla and beat on medium just until blended, then turn to low speed.
Add flour mixture a little at a time until all of it is blended in. Mixture will be very thick.
Add cold milk and set mixer to "stir" setting, or the very lowest setting possible.
Once you have a homogenous mixture, use a large spoon to scoop batter into a prelined cupcake pan, filling each cup ⅔ full.
Bake about 25 minutes, until toothpick comes out clean.
Remove immediately and place onto a cooling rack to cool before frosting.
FROSTING
Crush OREO's finely.
Cut butter into cubes and place in a medium sized bowl. Using the whisk attachment, whisk butter, vanilla, and 1 cup of sugar and 1 cup finely grounded up OREO cookies together on medium speed until smooth.
Add remaining sugar and 2 tbsp 2%milk.
Whisk on medium to high for a few minutes until frosting is smooth.
Frost your cupcakes with a rubber spatula or a pastry bag. If using a pastry bag, do not pick a narrow tip.
Enjoy!
Published on by Lauren
Tagged: chocolate, Cookies 'N Cream, cupcakes, decadent, dessert, oreo