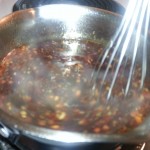 We love cooking Asian dishes and we have experimented with curry, schezwan, and teriyaki, but I am always trying to make each sauce better. I did a lot of research before deciding to make a teriyaki sauce again. I found this recipe on Allrecipes.com. We like our sauce to be thick, so I added cornstarch to thicken it up.
The original recipe calls for mirin, a Japanese sweet rice wine, but after going to three stores and not finding it; I bought sake instead. Sake mixed with sugar is a good substitute for mirin, and it worked just fine. We made a chicken stir fry over noodles; next time I am going to put it over grilled shrimp kabobs. I have tried many different teriyaki recipes, and this one is by far the best and I don't see myself trying another.
Teriyaki Sauce/Marinade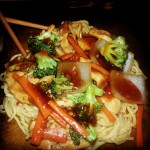 Prep time:
Cook time:
Total time:
Difficulty:

easy

Recipe type:

Sauce/Marinade
Ingredients:
2/3 cups Sake

1 tbs sugar

1 cup low sodium soy sauce

4 1/2 tsp rice vinegar

1 tsp sesame oil

1/3 cup white sugar

7 garlic cloves, minced

1 tbs fresh ginger, minced

red pepper flakes to taste

black pepper to taste

2 tbs corn starch

1/3 water
Directions:
Pour sake and 1 tbs of sugar into a sauce pan.
Bring sake to a boil in a saucepan over high heat. Reduce heat to medium-low, and simmer for 3-4 minutes. Stirring occasionally.
Pour in soy sauce, rice vinegar, sesame oil, and sugar. Season with garlic, ginger, pepper flakes, and black pepper; simmer an additional 5 minutes. Stir occasionally.
Mix the corn starch and water until it forms a light paste.
Add the mixture to your teriyaki. Continue stirring until fully combined.
You can add or subtract the amount of corn starch you use. The thicker you want your sauce/marinade the more cornstarch you will use and visa versa.
For use as a marinade, I do not recommend adding any corn starch.
Published on by Duane