I told my mom back around Mother's Day that I would make her cheesecake bites, and that I was just waiting for the right recipe to come along. Well, a month has passed and the last time she was over she made sure she brought that to my attention. I sat her at my computer and told her to browse one of my pinterest pages and pick a recipe; this is the one she picked.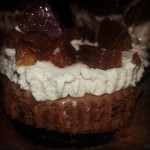 This is another recipe that combines REESE'S Cups and OREO'S (so good); but this one puts cheesecake in between the two with a peanut butter whipped topping. You wouldn't be able to tell this by looking at our last few posts, but we have been trying to eat healthier. With that in mind I tried to make this as low-fat as possible by using all reduced-fat ingredients instead of the regular items it calls for. I know this doesn't make it "good for you", but it definitely makes you feel less guilty about eating it!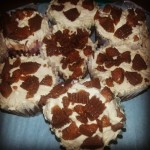 I originally saw the picture of these delicious cupcakes on Pinterest, which led me to the original recipe on insidebrucrewlife.com. When I made mine, I did a few things different. Besides all of the ingredients being reduced-fat; on some of the cupcakes I used a whole reduced-fat OREO cookie as the crust instead of the OREO butter crust. I like the whole OREO better. Another thing I tried was putting a very thin layer of crushed OREO in between the cheesecake and the peanut butter frosting. Every bite of every cupcake was delicious, and everyone that has tried them has loved them, including mom!
Reduced-fat REESE's Cheesecake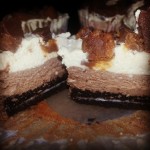 Prep time:
Cook time:
Total time:
Yield:

20

Difficulty:

easy

Recipe type:

Dessert
Ingredients:
FOR THE CHEESECAKE

2 cups reduced fat OREO cookie crumbs OR 20 whole OREO cookies

4 Tablespoons butter, melted

2 packages reduced fat cream cheese (8 oz. each)

1/2 cup sugar

2 eggs

2 Tablespoons fat free sour cream

1 teaspoon vanilla

2 Tablespoons flour

3/4 cup chocolate chips

1 teaspoon shortening

FOR THE PEANUT BUTTER MOUSSE

1 package low fat cream cheese (8 oz.)

1 container fat free Cool Whip (8 oz.)

1/2 cup peanut butter

2 cups chopped Reese's Peanut Butter Cups
Directions:
Place whole OREO's into the a lined muffin pan. If making a crust, combine the cookie crumbs and melted butter. Place a spoonful of crumbs in the lined muffin pan.
In a mixing bowl, beat the cream cheese, sugar, and vanilla until creamy. Add the eggs, sour cream, and flour and beat again.
In a microwave safe bowl, combine the chocolate chips and shortening. Heat for 30 seconds and stir. Repeat until melted. Let cool slightly. Pour into cream cheese mixture and beat until creamy. Spoon into prepared cupcake liners. Bake at 350* for 22 minutes. Let cool in pan for 3-4 minutes, then remove to wire rack to cool completely.
In a mixing bowl, beat the cream cheese and peanut butter until creamy. Add the cool whip and beat with the wire whisk attachment until creamy. Place spoonfuls on top of cooled cheesecake and spread out.
Chop REESE'S Cup and top cupcakes.
Chill for at least 4 hours.
Enjoy!
Published on by MuffinsandMeat
Tagged: Cheesecake, Cream Cheese, cupcakes, dessert, low-fat, oreo, Peanut butter, Reece's Peanut Butter Cup