After seven months of waiting, Tiny Food Party!: Bite-Size Recipes for Miniature Meals finally came in for me at the library. I was planning on doing the miniature cheesecake bites first, but after looking through the book again, I changed my mind and decided to do Homemade Hostess Cupcakes instead. I used to love hostess cupcakes when I was younger so when I saw this recipe I wanted to make them asap.
Okay, Tiny Food Party is a great cookbook, but they do not put prep time in the recipes. If they had, I wouldn't of started after six in the evening. This recipe makes 48 delicious miniature cupcakes, which means 48 cupcakes need to be scooped, filled, dipped, and drawn on (which I didn't think about until I had already started) So, when you make these, leave yourself an ample amount of time.
Next time I make these I want to try putting them in the fridge before filling with fluff. The marshmallow cooked in a little bit and I want to see if refrigerating has any effect.
I was very happy with the way these cupcakes turned out! These cupcakes are great for any party, and I can't wait for the next so I have an excuse to make these decadent cupcakes again!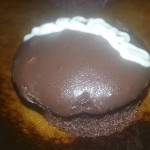 Recipe below does not include cooling time

Homemade Hostess Cupcakes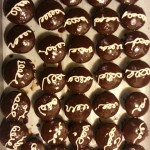 Prep time:
Cook time:
Total time:
Yield:

48

Difficulty:

medium

Recipe type:

Dessert
Ingredients:
CUPCAKE BATTER

1 cup all purpose flour

2/3 cup cake flour

1 cup granulated sugar

1/2 cup cocoa powder

1 tsp salt

1 1/4 cups low fat buttermilk

1/2 cup canola oil (book recipe calls for vegetable)

1/2 cup strong brewed coffee (I used choc-full-nuts Arabic blend)

2/3 cup semisweet chocolate (melted)

1 1/2 tsp apple cider vinegar

1 tsp pure vanilla extract

FILLING

1 cup marshmallow fluff

CHOCOLATE GANACHE

1/2 cup heavy cream

1/2 cup semisweet choclate chips

ROYAL ICING

1 egg white

3/4 powdered sugar (sifted)

1/2 tsp vanilla extract

up to an extra 1/2 cup of powdered sugar (*see directions)
Directions:
Preheat oven 350 degrees.
Place all of the ingredients for the cupcake batter into a large mixing bowl. Dry ingredients spooned in and leveled. Whisk together until fully combines. Line a mini cupcake tin with liners and fill each about 2/3 full.
Bake for 15-20 minutes, or until a toothpick inserted in the center of a cupcake comes out clean., Let cupcakes cool completely in the pan. Carefully remove cupcakes and cool completely in the pan. Carefully remove cupcakes from liners and discard if desired.
Scoop Marshmallow Fluff into a piping bag fitted with a small round tip. Pierce bottoms of cupcakes with the piping tip and fill each with about 1 tsp of Fluff.
To make the ganache, pour cream into a small saucepan and bring to a simmer over medium-low heat. Place chocolate chips in a medium heatproof bowl. Pour cream over top and let sit for 2 minutes. Gently stir melted chocolate and cream together with a wooden spoon until fully incorporated. Let cool for 3-5 minutes. Dip tops of each cupcake in ganahce, shaking off excess. Let the ganache set, about 30 minutes.
ROYAL ICING
In a medium mixing bowl, beat egg white on medium-high speed for 2 min, or until lightly frothy. Add powdered sugar 1/4 cup at a time, until mixture until mixture is thick and smooth. Add vanilla and beat for 1 minute more.
*as you mix the icing, add up to an extra 1/2 cup of powdered sugar to stiffen it and make it easy to pipe in decorative loops.
Published on by Lauren
Tagged: chocolate, cupcakes, decadent, dessert, marshmallow, party food