For Mother's Day I wanted to make my mom a few homemade goodies. I know she loves my cheesecakes, but the next cheesecake recipe I want to try is out of a book I am still on the waiting list for. So mom, you'll have to wait another week or two for more cheesecake. In place, I made Rocky Road Garganchewas from the cook book Great Cookies: Secrets to Sensational Sweets (I love this book!).
The texture of the cookies are very fudgy and remind me of a brownie, or the texture of a Little Debbie's Fudge Round. The recipe calls for pecans, but we aren't huge pecan fans so I replaced them with peanut butter chips. The most important thing to remember when making these cookies, timing is everything. If the cookies to get too hot the marshmallows will melt. Keep watch on the cookies especially the last 4 minutes.
Next time I want to add more marshmallows and use a semi-sweet glaze instead of the white chocolate.
Rocky Road Garganchewas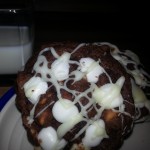 Prep time:
Cook time:
Total time:
Yield:

20

Difficulty:

easy

Recipe type:

Dessert
Ingredients:
2 cups all-purpose flour, spooned in and leveled

2/3 cup strained cocoa powder, spooned in and leveled

1 tsp baking powder

1 tsp salt

1/2 tsp baking soda

1 cup (2 sticks) unsalted butter, slightly firm

1 1/2 cups sugar

2 large eggs

2/3 cup of sour cream

2 tsp pure vanilla extract

1 1/2 toasted pecans (we substituted peanut butter chips)

1 1/2 cups semi sweet chocolate chips (we used 1 cup semi sweet, 1/2 cup white chocolate)

2-2 1/2 cups mini marshmallows

GLAZE: 1/2 cup semisweet chocolate chips or 1/2 cup of white chocolate chips, 2 tbs unsalted butter, 2 tsp boiling hot water
Directions:
Position the racks in the upper and lower thirds of the oven. Heat the oven to 350 degrees. Dab the corners of the cookie sheet(s) with butter and line with parchment paper.
Strain together 3 times the flour, cocoa powder, baking powder, salt, and baking soda. Set aside.
Using an electric mixer fitted with paddle attachment, beat the butter at medium speed until creamy and lightened in color, about 2 minutes. Add the sugar in a steady stream and beat 1 minute longer to combine well. Add the eggs one at a time, and beat 1 minute longer. Mix in the sour cream and the vanilla.
Reduce the mixer speed to low and add the dry ingredients in two additions, mixing just until blended. Using a large rubber spatula, fold in the pecans (peanut butter chips) and chocolate chips.
Using an ice cream scoop, portion six mounds of dough 3 inches apart onto the cookie sheets. Bake for 12 minutes or just until top starts to set. Remove from the oven and press 9-10 mini-marshmallows at random onto the tops. Return the cookies to the oven and bake for another minute or 2 OR until the marshmallows start to soften. WATCH CAREFULLY. Do not allow the marshmallows to become too hot or they will melt. These cookies are best slightly under baked.
Let rest on the cookie sheet for 5 minutes or until firm enough to handle before loosening with a large metal spatula. Remove to a wire cooling rack. Place wax paper or tray under the wire racks, to catch the dripping glaze.
GLAZE: Combine the chocolate chips and the butter in a medium bowl set over a pan of simmering water. (Double boiler method) Met together, stirring occasionally. Add the boiling water,1/2 teaspoon at a time, to thin to a pouring consistency. Using a spoon or a fork, drizzle the glaze over each cookie. Let stand on the cooling rack until the glaze sets.
Published on by Lauren
Tagged: chocolate, Chocolate Chip, dessert, marshmallow, Peanut butter