I am loving the cookbook Great Cookies: Secrets to Sensational Sweets (it is worth owning). I found a recipe called Zach's chocolate coconut devils and it looked delicious. It's chocolate and coconut, how can it be bad! I did a few things differently, like adding chocolate chips (so good). I love the texture of these cookies,; these are definitely my favorite coconut cookies so far!
Coconut Devils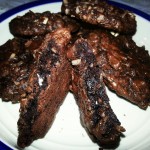 Prep time:
Cook time:
Total time:
Yield:

3 dozen

Difficulty:

easy

Recipe type:

Dessert
Ingredients:
2 2/3 cups lightly packed sweetened flaked coconut. ]1/2 cup all-purpose flour, spooned in and leveled

1/4 cup strained Dutch-processed cocoa powder, spooned in and leveled

1/4 teaspoon baking soda

1/4 teaspoon salt

1/2 cup (1 stick) unsalted butter

1 3/4 cups semisweet chocolate chips (split)

3 ounces unsweetened bakers chocolate chopped

3 large eggs

1 1/3 sugar (superfine works best)

2 teaspoons pure vanilla extract

1/14 pure almond extract

1 cup of semisweet chocolate chips

1 cup of white chocolate chips
Directions:
Position rack in the upper third of the oven. Preheat the oven to 350 degrees. Dab the corners of the cookie sheet lightly with butter and line with parchment paper.

If you have a food processor, place the flaked coconut in the processor and pulse  6 to 8 times or until the coconut is medium chopped. Set aside.

Strain together the flour, cocoa, baking soda, and salt. Set aside.

In a medium bowl set over simmering water (double boiler), on low heat melt the butter. Add 3/4 cups of chocolate chips and the chopped unsweetened chocolate and just melt the chocolates, gently stirring occasionally. Remove from the heat and keep warm.

In the large bowl using an electric mixer and the whisk attachment, beat the eggs on medium speed until light. Gradually add the sugar, taking about 2 minutes. Scrape down the side of the bowl as needed. Stop the mixer and pour in the warm melted chocolate, the mix on medium speed just until combined. Add the vanilla and almond extracts.

Reduce the mixer speed to low and mix in the dry ingredients. Remove the bowl from the mixer and let the batter rest for about 5 minutes, or until it begins to thicken. Add the coconut, 1 cup of chocolate and 1 cup of white chocolate chips. Using a rubber spatula, fold the ingredients into the mixture. Do not combine thourougly. Some of the coconut flakes should be visible.

Drop by heaping teaspoons onto the cookie sheets, about 2 inches apart. Bake for 10 or 11 minutes or until the tops are just set, but the cookies are still soft to the touch. The cookies will firm as they cool. Let stand for 1 to 2 minutes, then loosen with a thin metal spatula. When cool enough to handle, transfer to cooling racks.

 

.

 
Published on by Lauren
Tagged: chocolate, Chocolate Chip, coconut, dessert, white chocolate