This is a very simple macaroni salad recipe my mom gave me. I grew up eating macaroni salad made this way and I have yet to find a recipe that I like more. The key ingredients to the salad are Marzetti's Cole Slaw Dressing and your favorite vegetables. Mine are broccoli and cauliflower, so those are the two I use. I have tried different vegetables like olives, radishes, and cucumbers; and at times added pepperoni, but I like to keep it simple.
Last weekend we went to a cookout and my mom made her macaroni salad and she used cheese crumbles instead of shredded cheese. I think it made a big difference in the macaroni salad and I will be using crumbled cheese from now on.
Remember this is a very simple and versatile recipe, put your favorite ingredients in it to make it your own!
The Best Macaroni Salad Ever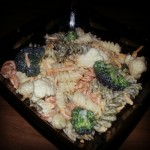 Prep time:
Cook time:
Total time:
Yield:

6-8 servings

Difficulty:

easy
Ingredients:
1 lb of tri-color pasta

1 jar of Marzetti Cole Slaw Dressing

1 cup fresh broccoli florets

1 cup of fresh cauliflower

1 cup of shredded sharp cheddar cheese or cheese crumbles (I love cheese so I add a little more)
Directions:
Rinse and chop broccoli and cauliflower. Set aside.

Cook the noodles according to packaged directions.

Drain the pasta and rinse with cold water to cool the noodles down.

Mix pasta, vegetables, cheese and Marzetti Cole Slaw Dressing well.

Cover and refrigerate for at least 2 hours.
Published on by Duane