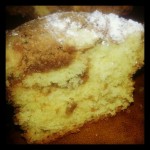 One of my guilty pleasure snacks is the Entemanns Crumb Cake, but I don't trust myself to have it in the house (I've been known to finish one off in two days). So when I found a Martha Stewart recipe for Coffee Cake Muffins from her website www.marthastewart.com I knew I had to make them.
I learned a lot from making these muffins; when cutting in the butter, make sure it forms large crumbles. If it is soft and powdery it will cook into the muffin and not have the crumbly top (but it still tastes delicious). I also recommend when putting the streusel in the middle, put a lot! The streusel in the middle is my favorite part; so next time I make these (and there will be a next time) I am going to make the jumbo muffins so I can fit more streusel inside.
I was very happy with these muffins and I can't wait to make them again!
Crumb Cake Muffins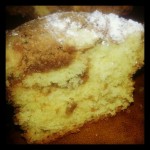 Prep time:
Cook time:
Total time:
Yield:

12 regular muffins, 6 jumbo muffins

Difficulty:

easy

Recipe type:

Breakfast
Ingredients:
FOR THE MUFFINS:

1/2 cup (1 stick) unsalted butter, room temperature

1 3/4 cups all-purpose flour (spooned and leveled)

2 teaspoons baking powder

1 teaspoon baking soda

1 cup sour cream

1 cup granulated sugar

1 teaspoon pure vanilla extract

2 large eggs

Confectioners' sugar (optional)

FOR STREUSEL TOPPING:

1 cup packed dark-brown sugar

1 cup all-purpose flour, (spooned and leveled)

1/2 teaspoon salt

1/2 teaspoon ground cinnamon

1/2 cup (1 stick) chilled unsalted butter, cut into small pieces
Directions:
Prepare streusel topping:

In a medium bowl, stir together brown sugar, flour, cinnamon, and salt. With a pastry blender or two knives, cut in butter until mixture resembles large coarse crumbs; refrigerate until ready to use.

Prepare muffins:

Line a 12  cup muffin pan or a 6 cup jumbo muffin pan.

In a small bowl, whisk together flour, baking powder, and baking soda; set aside.

Using an electric mixer on medium speed, beat together butter, sour cream, granulated sugar, and vanilla until light and fluffy. Beat in eggs, one at a time, until well combined. With mixer on low, beat flour mixture into butter mixture.

Divide half the batter among prepared muffin cups. Top with half the streusel mixture, then remaining batter, and top with streusel. Bake 25 to 30 minutes or until a toothpick inserted in center of a muffin comes out clean. Cool in pan 5 minutes, then transfer to a wire rack to cool completely. Dust with confectioners' sugar, if desired.
Published on by Lauren
Tagged: breakfast