Recently at work I checked out Great Cookies: Secrets to Sensational Sweets and there were so many great looking recipes I wanted to try, I decided to go on amazon and buy the book. (I think it was about time I gave the library book back) I tried this chocolate chip cookie recipe first, and what I really like about it are the white chocolate chips, they really make the cookie! When comparing this recipe to the Cake Boss's recipe  http://www.muffinsandmeat.com/2013/01/23/chocolate-chip-cookies/I can't really say which I like better. If I want to make a cookie with peanut butter chips I would go with The Cake Boss's recipe; if i want a chocolate overload, I will make these!
Triple Chocolate Chip Cookies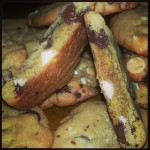 Prep time:
Cook time:
Total time:
Yield:

2 dozen

Difficulty:

medium
Ingredients:
4 oz cup quality milk chocolate

4 oz cup quality semi sweet chocolate

4 oz cup quality white chocolate

2 2/3 cup all-purpose flour, spooned in and leveled

1 tsp baking soda

1.2 tsp baking powder

3/4 tsp salt

1 cup (2 sticks) unsalted butter

3/4 cup lightly packed dark brown sugar

3/4 cup granulated sugar

2 large eggs

2 tsp pure vanilla extract
Directions:
Position rack in the middle of the oven. Preheat the oven to 375 degrees.

Strain the flour, baking soda, baking powder, and salt together three times. Set aside.

Place the butter in a large bowl. With a hand mixer beat butter on medium-high speed for 1 1/2-2 minutes, until creamy and light in color. Add the dark brown sugar all at once, beat for 2 to 3 minutes, scraping the bowl as needed. Then add the granulated sugar and beat for 2 to 3 minutes, scrap bowl as needed.

Add the eggs one at a time, beating for 1 minute after each addition, then pour in the vanilla and beat again for 30 seconds longer.

Using a rubber spatula, fold in the dry ingredients in three or four additions, mixing just to combine, then add the chocolate and fold briefly.

Using a tablespoon, spoon the dough into 1 1/4 inch walnut size mounds, about 3 inches apart on cookie sheet lined with parchment paper.Scrape down the side of the bowl occasionally to ensure even distribution of the chocolate chips. Do not crowd as these cookies spread. Bake for 10 minutes or until the tops are just set and the edges are lightly browned. Remove the cookies from the oven and let cook for 2 to 3 minutes. Then loosen with a metal spatula and transfer to cooling rack.

Enjoy!
Published on by Lauren
Tagged: chocolate, dessert, white chocolate