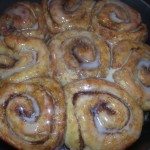 This past weekend Duane and I were at the grocery store and I looked around and saw cinnamon rolls on every display. I decided then I was going to try to make them for the first time. Thank you smartphones for the capability to browse the web while waiting on line for cold-cuts. I started off using a recipe from allrecipes.com but their recipe didn't have a glaze; Cinnamon rolls have to have a glaze! I found two recipes that looked really good and I couldn't make up my mind which looked best, so I made them both. There is a brown sugar glaze that is put on before it goes in the oven and again 5 minutes before the timer goes off. There is also a white vanilla glaze that goes over the rolls while they are warm.
Next time I make these (there will be plenty of next times) I want to try something different. This recipe calls for unbleached all purpose flour which I didn't have (and I didn't want to make another trip to the store) so I did a little research to see what the difference was and if they could be substituted. I read that it is best to use bleached flour when baking pie crusts, cookies, quick breads like muffins, pancakes and waffles. Unbleached flour is used for yeast breads and various pastries such as eclairs, cream puffs and popovers. After reading that, I thought about going back to the store and getting the unbleached flour; then I thought about having to go back out into the public. I chose to use the bleached this time around and next time try the unbleached.
Another thing I did differently with this recipe is the cooking time. With the first batch I did not brush the muffins with the brown sugar glaze and I set the timer for 25 minutes instead of the 30 minutes suggested. When I took them out they were a little hard on top. The second batch I did use the glaze and cooked it for 24 minutes (1 minute can make a difference), and they were better. The third batch, which came out the best, I used the glaze before they were put in, and again when there was five minutes left on the timer. I only cooked the third batch for 22 minutes and they were the perfect. Set your timer for 22 minutes, do a tooth pick test and if they are not finished put them back in for no more than a minute or two.
All in all I was happy with the turn out and so were my taste testers.
Cinnamon Buns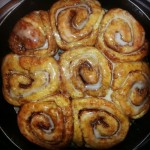 Prep time:
Cook time:
Total time:
Yield:

24

Difficulty:

easy
Ingredients:
2 (.25 ounce) packages active dry yeast

1/2 cup warm water 110 degrees

1 1/4 cups buttermilk, room temperature

2 eggs

5 1/2 cups all-purpose flour, divided

1/4 cup butter, softened

1/2 cup granulated sugar

2 tsp baking powder

2 tsp salt

2 tbs butter

1/2 cup granulated sugar

2 tbs ground cinnamon

BROWN SUGAR GLAZE DIVIDED

1 cup butter, melted

1 cup packed dark brown sugar

2 tsp ground cinnamon

VANILLA GLAZE CREAM

1 cup powdered sugar

1 1/2 teaspoons vanilla extract

1/4 cup heavy cream

2 1/2 tablespoons milk
Directions:
In a large bowl, dissolve yeast in warm water. Let stand until creamy, about 10 minutes. Preheat oven to 375 degrees F

Combine the yeast mixture with the buttermilk, eggs, 2 1/2 cups flour, 1/4 cup softened butter, 1/4 cup sugar, baking powder and salt; stir well to combine. Stir in the remaining flour, 1/2 cup at a time, beating well after each addition. Dough should remain soft and slightly sticky. When the dough has pulled together, turn it out onto a lightly floured surface and knead until smooth and elastic, about 8 minutes.

Divide dough in half and roll each half into a 12×7 inch rectangle. Spread each half with 1 tablespoon softened butter and sprinkle with 1/4 cup sugar and 1 tbs cinnamon. Roll up halves, beginning at wide side. Seal well by pinching the seams. Cut each roll into 12 slices.

Melt 1/2 cup of butter. Mix in the 1/2 cup of dark brown sugar and 2 tsp of cinnamon. Brush the mixture on the bottom of 2 round 9 inch cake pans. Less than half of the mixture will be used.

Place 12 (or as many as your pan will hold, one of my pans held 12 the other held 8) dough slices in each pan, leaving a small space between slices. Cover and let rise until doubled.

Bake in a preheated oven for about 22-25 minutes. When there are only 5 minutes left, open the oven, pull the rack out, and glaze the top of the cinnamon rolls. Close the oven and let the rolls bake for the remaining 5 minutes.

VANILLA GLAZE

Add sugar to bowl and stir in heavy cream and vanilla until mixture resembles a thick batter. Add milk one tablespoon at a time, stirring until smooth – about 3-5 full minutes. Mixture may look lumpy at first but just continue to stir and it will come together.

Pour over hot cinnamon rolls.
Published on by Lauren
Tagged: breakfast, dessert, vanilla glaze