So I missed writing about "The Taste" Daring Pairings last week and I'm late this week so quick recap;. Gregg is still hated by fellow contestants and home viewers. Shawn made a fish and cheese dish and it was hated by all of the judges. Ludo said if a cook from his kitchen made the dish he would send them home; Ludo proved to be a man of his word and Shawn was sent home.Last week we also said good byte to Erika from Nigella's team, leaving only two contestants left in her kitchen. Twelve cooks remain in hopes of winning the Prius and 100,000 dollar prize.
We were especially excited for this weeks episode, we love making and creating different sandwiches. Kristianne said it best when she stated "What kind of chef are you if you can't make a sandwich?". The team  challenge was that each cook would prepare a plate (you can't fit a sandwich on a spoon) of either a club, salad or pb&j sandwich. Rich Torrisi and Mario Carborne, owners and chefs at Torrisi Italian Specialties, will be guest judges on the team challenge.The contestant who prepared the winning plate had immunity in the solo taste test. The team with the winning plate received guidance from the guest judges in preparing their plate. You could see how angry the other contestants were when Gregg was chosen as the challenge winner and had immunity in the solo tasting. You could see Gregg's ego getting bigger right there on set.
When it is time for the solo challenge Ludo's team receives the extra guidance from the guest judges; when they ask Sarah what she is making she proceeds to tell them she is making a taco,"is a taco a sandwich?" her reply "it is protein in between carbs." and she takes the risk, fortunately for her, it was a tasty risk.
One of the most important things about a sandwich is the bread. If the bread isn't good, it isn't a good sandwich. In the kitchen there was a surplus on Naan being used, don't get me wrong I love naan but I like it with Indian cuisine. Mia decided to make her own naan in under an hour, unfortunately it was charred and the judges did not like it. Gregg was another one of the cooks who used naan, however the judges were not impressed with his curry lamb sandwich, and they thought that it tasted like a pastry. On the flip side Lauren used naan with her sandwich too, in which Bordain expresses "this is the sort of sandwich that I would reconsider my social plans so that I may enjoy more of this." Uno knew she wouldn't have time to make her own bread, so instead she uses pizza dough; which I think was a brilliant idea, and the judges had no clue that it was pizza dough. Diane made a bahn mi sandwich and the judges thought there was too much bread.
The judges favorite sandwiches of the night were; Jeffs cubana, Lauren's naan, and Ninamarie's cappacio. On the other hand, the four worst sandwiches were; Greggs curried lamb, Dianes Bah mi, Huda's undercooked pesto chicken, and Mia's homemade charred naan. After deliberation the judges unanimously decided Huda's raw chicken was unforgivable and sent her home. Bourdain had to say good-bye to his first cook from his kitchen and Mia was the cook eliminated   Next week there will only be ten contestants remaining and three will be sent home by the end of the night.
I hope that the speedy season and time change isn't an indication that the show will not continue after this season. ("The Taste" is no longer in the 8 pm prime time slot but being pushed back to 9pm). Even though I have read a lot of negative reviews, we really enjoy watching this show (it's fun to think about what we would make if we were competing). There aren't enough culinary shows out there so I want to hold on to what ever ones are out.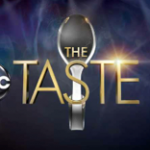 Next week the contestants are given a challenge that we would love to be able to compete in. They are working with a pig from head to toe. I am very curious to see what the contestants will be preparing. Don't miss "The Taste" this Tuesday at 9pm on ABC.
Tagged: ABC The Taste, Reality tv