I do not like any of the coleslaw's that are sold in the grocery store, so I have been looking for a good recipe to try. One day while I was flipping through Big Bob Gibson's BBQ Book: Recipes and Secrets from a Legendary Barbecue Joint, and I came across Chris Lilly's, Crisp Spicy Southern Mustard Coleslaw. I do not like regular yellow mustard so I substituted honey mustard in its place. Lily's recipe also includes a few other vegetables that I chose to leave out. If you do not have the time to chop up the vegetables you can buy the chopped coleslaw mix at your local grocer.
The Spicy Honey Mustard Coleslaw goes well with any kind of BBQ. If anyone ever asks me to make a coleslaw or wants a recipe recommendation, this is the one. I have never had a coleslaw as good as The Spicy Honey Mustard Coleslaw.
The recipe below is the way I make the coleslaw, click on the above link for Big Bob Gibson's BBQ book for the original recipe.
Spicy Honey Mustard Coleslaw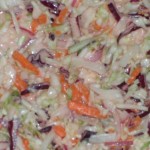 Prep time:
Cook time:
Total time:
Yield:

8-10

Difficulty:

easy
Ingredients:
8 Cups shredded green cabbage

1 cup of red onions

3/4 cup of white onions

1/3 cup of shredded carrots

2/3 cup sugar

DRESSING

6 tbs apple cider vinegar

6 tbs honey mustard

1/4 cup ketchup

1/4 cup sour cream

2 tbs mayonnaise

1/2 tsp salt

1/4 tsp cayenne pepper
Directions:
Combine cabbage, onion, carrot and sugar in a large bowl. Mix well. The sugar will caramelize the cabbage.

In a separate bowl combine the dressing ingredients and blend until smooth. Pour the dressing over the cabbage mixture and stir together. Chill and serve.
Published on by Duane
Tagged: honey mustard, simple, slaw, spicy, vegetable