My granny always made the best fried chicken and when I asked her what her secret was she always said, "self-rising flour and a cast iron skillet". So whenever I make fried chicken those are two things that I always use. This is a recipe for spicy chicken cutlet, but the spice level is up to you; just reduce the amount of chili pepper and sirachi sauce. If you do not want yours spicy at all, use original PANKO bread crumbs and season with Italian seasoning and garlic powder.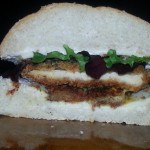 We enjoy eating this chicken on a sandwich, but we wish we could find better bread around here. It also works well in salads, in wraps, or even by itself. One thing is for certain, ever since we started making it this way, there have been fewer trips to Chic-fil-a.
Spicy Fried Chicken Sandwich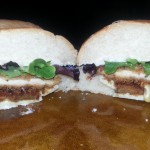 Prep time:
Cook time:
Total time:
Yield:

6 sandwiches

Difficulty:

easy
Ingredients:
chicken

self-rising flour

1 8oz can spicy hot PANKO bread crumbs

5 regular eggs

2.5 tbs sirachi hot sauce

1 – 2 tbs (or to your liking) garlic powder – split in half

1 – 2 tbs (or to your liking) black pepper – split in half

1- 2 tbs (or to your liking) chili pepper- split in half

vegetable oil (1/4 to 3/8 from bottom)

1 tbs of sesame oil (optional)
Directions:
If using thin sliced chicken breasts already, skip this step.

If working with thick cutlets, wrap chicken into wax paper. Using a meat tenderizer (the flat end), pound out the chicken making thin chicken cutlets.

Rinse chicken and pat dry.

In a bowl, combine eggs and sirachi, whisk well. Set aside.

In a separate bowl, pour 4 oz of PANKO bread crumbs.  Add 1 tbs garlic powder, 1 tbs black pepper, and 1 tbs chili powder. Mix well.

In a third bowl pour in self rising flour.

Dip 1 piece of chicken in the egg mixture and then into the flour, coat and press down on both sides of the chicken so that the flour sticks. Re-dip chicken into the egg and then place the chicken in the bread crumbs, coat and press well so the bread crumbs stick.

Half way through, add the remaining 4 oz of PANKO breadcrumbs, 1 tbs garlic powder, 1 tbs black pepper, and 1 tbs chili powder (season to your preferred taste).

In pan, heat oil to medium. Place 2 cutlets in oil (or however many your pan will hold).

Cook chicken 4 minutes on each side or until done.

Depending on how much oil you started with, you may need to add a little more towards the end.

Remove and let cool.
Published on by Duane
Tagged: fried chicken, quick dinner, spicy