Last night was the Superbowl, so you all know why this did NOT get posted last night, but the morning after. The Superbowl marks the end of football season (as if February isn't depressing enough) which puts an end to the fantasy games, pick em leagues, and office pools.  I could care less on the two teams battling it out yesterday (Giants have it next year!) so my main focus was on what squares I had in the pool (no winning ones) and what desserts to make.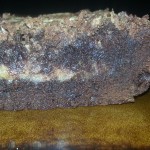 One of the desserts I decided on were brownies. I found a recipe in Martha Stewart's Cookies: The Very Best Treats to Bake and to Share (Martha Stewart Living Magazine) for a peanut butter swirl brownies. These brownies were very cake like, so next time I make them I am going to use 2 eggs instead of 3, and maybe cut the flour down and add more chocolate (the more eggs and flour, the more cake like) I would much rather have gooey, chewy, fudgy brownies as opposed to cakey. If you are the same way this recipe is fine to use, just use 2 eggs instead of the 3. One thing that I really did like about this recipe is the flaky top and the peanut butter flavor was just right.
As the night came to an end, Ray Lewis ends his career with a Superbowl win and a 2nd ring on his finger, Colin Kaepernick played in his first Superbowl, after only having 9 career NFL starts and he set a Superbowl record with his 15 yard touchdown run, (the longest in Superbowl history from a Quarterback) Kaepernick wasn't the only one who broke records last night, both the 49'ers and the Ravens had record breaking plays.
So, while Duane and I were not winners yesterday, the brownies (and the Ravens) definitely were!
Peanut Butter Swirl Brownies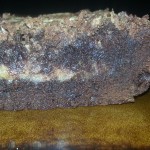 Prep time:
Cook time:
Total time:
Yield:

9 large or 16 small

Difficulty:

easy
Ingredients:
for the batter:

1/2 cup (1 stick) unsalted butter

2 ounces of unsweetened chocolate coarsely chopped

4 ounces of semisweet chocolate coarsely chopped

2/3 cup all-purpose flour

1/2 teaspoon baking powder

1/4 teaspoon coarse salt

3/4 cup granulated sugar

3 large eggs

2 teaspoons pure vanilla extract

for the filling:

4 tablespoons (1/2 stick) unsalted butter melted

1/2 cup confectioners sugar

3/4 smooth peanut butter

1/4 teaspoon coarse salt

1/2 teaspoon pure vanilla extract
Directions:
Preheat oven to  325 degree. Butter an 8-inch square pan and line with parchment paper. Allow 2 inch over hang. Butter lining. (not the overhang)

Make batter: Put butter and chocolates in a heatproof medium bowl and set over a pan of simmering water (double boiler) stir until melted. Let cool slightly. Whisk together flour, baking powder and salt in a bowl.

Whisk granulated sugar into chocolate mixture. Add eggs, and whisk until mixture is smooth, . Stir in vanilla. Add flour mixture; stir until well combined.

Make filling: Stir together melted butter, confectioners' sugar, peanut butter, salt, and vanilla in a bowl until smooth.

Pour 1/3 of batter into prepared pan; spread evenly with a rubber spatula. Drop dollops of peanut butter About 1 tablespoon each on top of the batter spacing about 2 inch apart. Drizzle remaining batter on top, and gently spread to fill pan.

Drop dollops of remaining peanut butter mixture on top. Gently swirl peanut butter filling into batter with a butter knife, running the knife lengthwise and crosswise through the layers.

Bake for 45 minutes or until tester comes out with a few crumbs but not wet. Let cool slightly in pan, about 15 min. Lift out; let cool completely on a wire rack before cutting into squares. Brownies can be stored in an airtight container at room temperature up to 3 days.
Published on by Lauren
Tagged: chocolate, dessert, Peanut butter