With a website called muffinsandmeat, it's time to have a muffin recipe posted. These blueberry muffins are very easy to make and the recipe doesn't call for many ingredients. When it comes to fruit, it is always best to use fresh and organic if it is available, however when I went into my local grocer and saw that they were charging 6 dollars for a pint, I went to frozen food aisle instead. Allow the blueberries to thaw out before adding them to the batter and the muffins will still be delicious.
The recipe was originally intended for blueberry muffins, but if chocolate can be added to something I am going to add it.
The best blueberry muffins with chocolate chips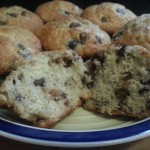 Prep time:
Cook time:
Total time:
Yield:

12

Difficulty:

easy

Recipe type:

Breakfast
Ingredients:
1/2 cup unsalted butter

1 1/4 cups white sugar

1/2 teaspoon salt

2 eggs

2 cups of all purpose flour (will be divided)

2 teaspoons baking powder

1/2 cup buttermilk *

1cup blueberries

1/2 cup of chocolate chips (optional)

2 table spoons white sugar

* I used low fat buttermilk
Directions:
Position rack in the middle of the oven. Pre heat to 375 degrees

Spray muffin pan with non stick spray. Line with paper.

In a large bowl, cream together the butter, 1 1/4 cups of sugar and 1/2 teaspoon of salt until light and fluffy.

Beat in the eggs one at a time.

In separate bowl mix together 1 3/4 cup of flour with the 2 teaspoons of baking powder,

Beat in the flour mixture alternately with the buttermilk. Mix it until incorporated.

Take 1/4 of the blueberries and crush them. Stir them into the batter.

Mix the remaining whole blueberries and chocolate chips with the remaining 1/4 cup of flour, fold into the batter. Scoop into muffin cups and sprinkle tops with sugar.

Bake in the preheated oven for 30 minutes or until golden brown. The tops should spring back when lightly tapped.
Published on by Lauren
Tagged: blueberry, breakfast, Chocolate Chip