This double chocolate chip cookie recipe I got from Baking with the Cake Boss: 100 of Buddy's Best Recipes and Decorating Secrets
I am all for adding ingredients to already great dishes, and this recipe is a great one to do so with. Duane loves  peanut butter so that was the first thing I added. They turned out so well I started to try other candies. I added  mint chips with a junior mint thumb print in the middle and my favorite coconut. Butterscotch, peanuts, and white chocolate also work well.
This recipe is easy to double and you can make so many different variations.
The Best Double Chocolate Chip Cookies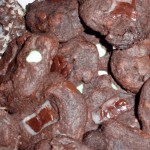 Prep time:
Cook time:
Total time:
Yield:

24 Cookies

Difficulty:

easy
Ingredients:
1 cup (2 sticks) unsalted butter

1 cup of granulated sugar

1/2 cup light brown sugar

1/3 cup unsweetened Dutch-process cocoa powder

1 extra large egg

1 teaspoon pure vanilla extract

2 tablespoons whole milk (I used 2% and it works just fine)

1 3/4 cups all-purpose flour

1/4 teaspoon baking powder

1 cup of semi sweet chocolate chips

(add additional candies)
Directions:
Position Rack in the center of the oven and preheat to 325 degrees

Put the butter, sugar, and brown sugar in the bowl of a stand mixer fitted with the paddle attachment. (You can use a hand mixer if you allow the butter to soften at room temperature before beginning.) Cream on low speed until the mixture is uniformly blended, with no pieces of butter remaining (2 to 3 min)

Add the cocoa, egg and vanilla. Mix on low for 1 to 2 min, then stop and scrape with a rubber spatula. Mix on low speed until the mixture resembles chocolate frosting, 2-3 min. Stop and scrape, then add the milk. Mix for 30 seconds to blend together.

In a separate mixing bowl add the flour and baking powder, stir together with a fork or whisk. After whisked, add to the mixing bowl and paddle/mix on low speed until well mixed, about 1 min. Scrape and mix for another minute on low speed, With the mixer running on low speed, add the chocolate chips and any other candy you might be adding. (when making large batches or multiple kinds, I recommend separating the dough into different bowls before mixing in any chips) Mix until evenly distributed, about 1 min.

Let dough come to room temperature before baking. Break the dough into small pieces and roll between the palms of your hands to form 24 meatball size balls. Place on two nonstick cookie sheets, about 2 inches apart.

Bake until the cookies are flat and hot, 13-15 min. The cookies will look undone, but will gently finish baking after you remove them from the oven. Do not leave in the oven for more than 15 min. no matter what. Remove the cookie sheets from the oven. As soon as the cookies can be moved, use a spatula to transfer them to a rack and let them cool.

Cookies are best if eaten with in 3 days.

Dough can be refrigerated up to 1 week or in the freezer up to 2 months
Published on by Lauren
Tagged: Cake Boss, chocolate, coconut, dessert, double chocolate, Peanut butter