These chocolate chip cookies are my sister's favorite! I have tried a few different chocolate chip cookie recipes, and Buddy Valastro  did it again, this one is my favorite. His recipe does not call for it, but peanut butter is a favorite in my house, so along with the semi-sweet and milk chocolate chips, I added Reeses Peanut Butter Chips too. I know dough has raw egg in it; and you aren't supposed to eat it, but c'mon, it's so good!
My favorite things about this cookie are the two different kinds of chocolate chips, and adding the peanut butter adds another flavor. What makes this cookie stand out to me is the dark brown sugar instead of light brown which is what is called for in the other recipes I have tried. The dark brown sugar gives it a stronger molasses flavor. (even though dark and light brown sugars are interchangeable, I do not recommend it, the intense flavor is what makes it so good)
I can't see myself trying any other recipes for chocolate chip cookies after finding this one. I absolutely love it!
Chocolate Chip Cookies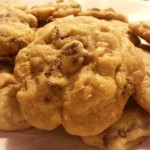 Prep time:
Cook time:
Total time:
Yield:

24 Cookies

Difficulty:

easy
Ingredients:
2 sticks butter (1 cup), room temperature

1 cup granulated sugar

1/2 cup dark brown sugar

1 teaspoon baking soda

1 teaspoon fine sea salt

1 teaspoon vanilla

2 extra-large eggs, room temperature

2 ‑¼ cups all purpose flour

1/2 teaspoon cinnamon

2 cups semi-sweet chocolate chips

1/2 cup milk chocolate chips

1/2 cup peanut butter chips (Optional)
Directions:
Preheat oven 350°, middle rack.

In a bowl, whisk cinnamon into flour.Put aside.

In a stand mixer with paddle (hand mixer works too), put butter, both sugars, baking soda, salt and vanilla. Beat medium just until ingredients come together as a mass.

Add eggs, one at a time, until fully incorporated, stopping to scrape sides as needed.

On low, add flour and cinnamon and beat just until incorporated. Add chips and beat just until incorporated.

On 1-2 baking sheets lined with parchment, drop batter by heaping tablespoon, up to 15 per sheet. Bake 13 min or until just golden brown on edges. Remove the cookies from the baking sheet once they are cooled. about 7 min.

Keep in a air tight container up to 3 days.

Dough can keep in refrigerator 5 days. freezer for up to 2 months. 
Published on by Lauren
Tagged: chocolate, Chocolate Chip, dessert, Peanut butter