I've wanted to make an OREO cheesecake for a long time, and after what feels like months, I finally did it. Not trying to brag, but it was probably the best cheesecake I have ever had! I will say, I was nervous taking off the spring form pan.
Now that the cake is finished, I am going to say the hardest part of this whole recipe is waiting the 20 hours for the cake to chill, but it is well worth it! Oh my goodness I can't even explain how good it was!

This cookies and cream cheesecake has the perfect texture, which is very important in making a cheesecake for me. The chocolate chips over top the crust and the chocolate glaze gives it just the right amount of richness. Everyone that tried this cheesecake absolutely loved it. My mom said that for every holiday and big occasion I am to make this cheesecake; and I will, gladly!
I'm not going to lie, I had cheesecake for breakfast too!
Oreo Cheesecake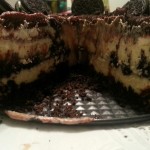 Prep time:
Cook time:
Total time:
Yield:

12-14

Difficulty:

medium

Recipe type:

Dessert
Ingredients:
FOR CRUST

2 cups Oreo cookie crumbs

2 tablespoons butter, melted

1/4 cup packed brown sugar

1 teaspoon ground cinnamon

1/2 cup semisweet chocolate chips (optional)

FOR FILLING

4 (8 ounce) packages cream cheese, softened

1 1/4 cups granulated sugar

1/3 cup heavy whipping cream

2 tablespoons all-purpose flour

1 1/2 teaspoons vanilla extract

4 eggs

1 1/2 cups Oreo cookies, crushed into pieces

small hand full semisweet chocolate chips (optional)

SOUR CREAM LAYER

16 ounces sour cream

1/4 cup granulated sugar

1 teaspoon vanilla extract

CHOCOLATE GLAZE

1 cup heavy whipping cream

1 1/2 cups semi-sweet chocolate chips

1 teaspoon vanilla extract

14 -16 whole Oreo cookies
Directions:
CRUST:Mix 2 cups cookie crumbs, melted butter, brown sugar, and cinnamon in a medium bowl; firmly press mixture evenly into bottom and 1 inch up sides of a 10-inch springform pan.

Add the chocolate chips to the top of the crust. (optional)Bake at 350º F. for 5 minutes; set aside.

FILLING:In a large bowl, beat cream cheese at medium speed of an electric mixer until smooth.Gradually add 1 1/4 cups sugar, beating well.Add 1/3 cup whipping cream, flour, and 1 teaspoons vanilla; beat well.Add eggs, one at a time, beating after each addition.Pour 1/3 of batter into prepared pan. enough to cover the cookie crust.

Top with 1 1/2 cups crushed cookie pieces; pour in remaining batter.

Bake at 350º F. for 45 minutes.

CHOCOLATE GLAZE:

Combine 1 cup whipping cream and chocolate chips in a saucepan; stir over low heat until chocolate melts; stir in 1 t vanilla.

Pour mixture over cheesecake while still warm.

Refrigerate at least 20 hours before serving.

Remove about 1/2 hour to 1 hour before serving, remove ring from springform pan.

Decorate cake as you please, crush up oreo crumbs to sprinkle on top, or place whole OREOs around the cake.

Serve chilled.

Cook time does not include chill time

.
Published on by Lauren
Tagged: Cheesecake, chocolate, Cream Cheese, decadent, dessert, oreo